San Francisco in the Year 2018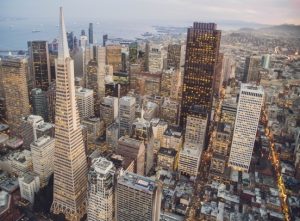 San Francisco has famously rebuilt and reinvented itself over its 200+ year history—a military stronghold, a fur trading center, international port, gold mining town, cultural center, counter-cultural center, gay mecca, etcetera…each iteration completely different from the previous self, but organically grown from the limb whence it sprouted.
Today's San Francisco is forward-looking but, like a new bride treasures the 'something old' that adds meaning to its existence.
Looking Forward: the San Francisco of Today
San Francisco is the second most expensive city to live in in the US—the dubious top honor goes to New York City.  Investopedia estimates it can take more than $119,000 to "live well" in SF, but adds the caveat that unemployment is low (2.6%), and investment in new businesses is high.
Rent averages $3,100 – $3,400 a month so many young people, without trust funds, opt to have a roommate…or MORE than 1.  An exciting and inventive solution to the high rents is "collectives".  "Collectives" are live/work spaces for people collaborating on an endeavor or start-up.  Places like, "The Factory", The Upload Collective and "The Red Vic" are reinventing the ways in which the new San Franciscans LIVE and WORK.
Tourism, tech, and financial services are now the 3 powerhouse industries in the city.  Tourism, of course, includes the restaurant industry, which I would argue IS the reason so many people flock to San Francisco.  Dining has always been epic in the city and 2018's hot, new offerings up the ante!  "China Live", "Manufactory Food Hall", "Angler", and the as yet unnamed new venture by the Michelin-starred duo of "Quince", Michael and Lindsay Tusk, are all bound to become the next impossible gets reservation-wise.
The "East Cut" neighborhood of San Francisco has 8 new high-rises going up that will add some striking buildings to the city's skyline.  There are an additional 6 major buildings under construction that dot the surrounding areas—"Pinterest", "Dropbox", and "Salesforce" will all be moving in (or hoping to) before the end of 2018.
The 'new San Francisco' is exactly that—new!  The future SF will be driven by new ways to live and work, new restaurants, new buildings creating a new skyline, and no doubt, new businesses that will invent the San Francisco of tomorrow.