April Events in San Francisco
Many April events in San Francisco celebrate Spring, awakening, new beginnings, removing the layers of winter and embracing the outdoors.  TALK students in San Francisco have a lot to look forward to exploring and discovering in their new neighborhood of Fisherman's Wharf, and beyond that participating in events that we are offering in April.
To welcome TALK students to their new location this spring, TALK San Francisco plans a fun POTLUCK lunch. This party is a favorite amongst staff and students alike.  At lunchtime, all students, teachers, and staff get together for this big feast! Every class picks a traditional American side dish and brings it along to the Pot Luck Party.  They can cook the dish themselves or they can order it –  as long as it's enough for everyone in the entire school!
April events and cultural highlights in the city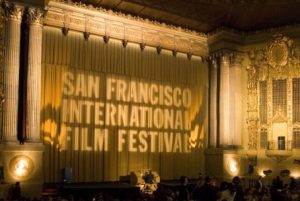 San Francisco International Film Festival: April 4-17
This hugely popular film festival happens in the first 2 weeks of April.  The San Francisco International Film Festival is the longest-running film festival in the Americas and now shows about 150 films, with discussions hosted by up to 100 filmmakers plus an awards ceremony.
Art Market San Francisco April 27-29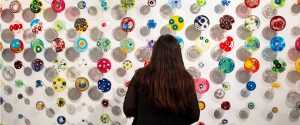 Discover new art — and explore art trends developing around the globe — at the eighth annual Art Market San Francisco, the Bay Area's leading contemporary and modern art fair. With works from approximately 70 innovative up-and-coming galleries from around the country, this art fair is perfect for art lovers who are excited about experiencing a vast collection of amazing art all in one place. The market takes place at the Fort Mason Center.
61st annual Northern California Cherry Blossom Festival April 14-22, 2018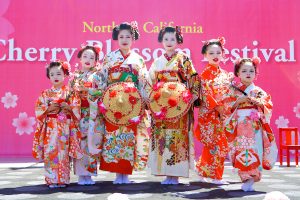 One of California's most prominent celebrations of Asian traditions and biggest on the West coast. Each year, over 200,000 people attend this dazzling display showcasing the color and grace of the Japanese culture and the diversity of the Japanese American Community.  All are welcome to join in the festivities as we celebrate heart Japanese and Japanese American culture in San Francisco's Japantown!  There are food booths, cultural shows, martial arts, live bands, and more. The Grand Parade will be held on Sunday, April 22, beginning at 1 pm starting from City Hall and concluding in Japantown.
Easter Parade Union Street Easter Sunday 2 pm April 1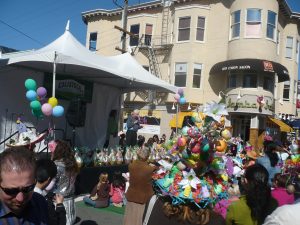 One of the best events scheduled for Easter in San Francisco is the Union Street Spring Celebration and Easter Parade. This annual event offers great food and a variety of fun activities for the whole family. The parade begins at 2 pm and showcases the eclectic community of San Francisco.