Free activities in Miami

Free yoga classes at the Bayfront, free boot camp classes at Miami-Dade City parks, discounted admission to museums – whatever the season, there are so many discounted or free activities in Miami, and you don't have to blow you budget to have a fantastic time here.  Both a free and fun activity is, of course, a day on one of those beautiful beaches, but there is so much more to Miami – events, classes and clubs that you can attend for free for close to nothing.  There is even a website dedicated to free activities in Miami. It lists everything you can possibly think to do which are free or cheap.  The free activities in Miami  are regularly updated and they don't miss a thing that is on offer.  This July , check out some of these regular events.
10 free activities in miami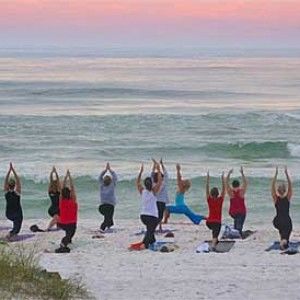 1.  Yoga on the Beach for $5
South Beach yoga classes are held every day of the year at 7 a.m., 5 p.m. and 6 p.m, for $5. Find your spot near the lifeguard stand at Third Street, Miami Beach
2. Skybar  at the Shoreclub on Collins Avenue.  This  glitzy venue has a tropical garden, hip-hop room, pool & beach bars & Sunday pool parties.  And you can dance all night for free, just don't buy the fancy expensive cocktails!
3. The fantastic Miami Beach SoundScape Cinema Series on 17th Street shows free movies on a 7,000-square-foot exterior projection wall on Wednesdays at 8 pm.
4. Night owls and movie lovers can catch one of the discounted late night movie screenings at the Coral Gables Art Cinema at 11 p.m. on Saturdays. The $5 admission price includes free popcorn.
5. For those who want to experience Miami's Latin flavor, don't miss out on Casa Panza, an tapas bar in downtown Miami that is a popular destination for free flamenco-dancing and and entertainment music. The venue really gets going around 11:00 p.m.
6. The last Friday of the month brings a free concert and free admission at MOCA the Museum of Contemporary Art, 770 NE 125 St., North Miami.  The museum is open by donation from 7 to 10 p.m. during this event, which starts at 8 p.m.
7. For all those urban cyclists and art lovers, the city's Wynwood Arts District offers something really special on  Sundays at 4 p.m..  You all meet at the hip Panther Coffee, 2390 NW Second Ave.. Bike enthusiast Ryan Ferrell will then take you on the Wynwood Mural Tour, which is led by a local artist.  It's free, lasts one hour and you get to see amazing street art and graffiti created by both young unknown graffiti artists as well as larger, and well-known commissioned works.
8. One of the historic free activities in Miami that should not be missed is a stroll through historical Little Havana, where the Cuban immigration into Miami all started.  There are many landmarks, monuments and also the Calle Ocho Walk of Fame.
9. For art lovers, and to see what emerging artists are doing in the city, visit the Miami Dade College Museum of Art and Design, which is  always free and holds regular exhibits.
10. On South Beach is the fabulous Museum of 20th Century Design, the Wolfsonian-FIU Art Museum. On Fridays you can see the exhibits for free between 6 p.m and 9 p.m. And when you are thinking if small but beautiful original gifts to take home, their store is a marvel.
10. Wolfsonian-FIU Art Museum – On Fridays, you can wander the exhibits for free between 6:00 pm and 9:00 pm.
Visit the website about free activities in Miami to keep up to date with special events that are happening.  Another good website for local free Miami activities and cheap events is Hostelling International's Miami page: http://hi-miamibeach.com/.  You will be really surprised by the variety and amount of amazing cheap and free things you can do to experience this lively, multicultural metropolis.