Alex Chacon Around The World Selfie

Selfies have become a global phenomena and one person who has taken this trend to a whole new level is Alex Chacon, a medical student. Alex Chacon is a public speaker, adventure rider, professional photographer, presenter, and videographer who attend many professional conferences, events, and film festivals right around the world. During these events, Chacon speaks about his charitable and challenging expeditions on a variety of motorcycles while continuously riding and touring on numerous projects.
Chacon is one of the leaders in motorcycli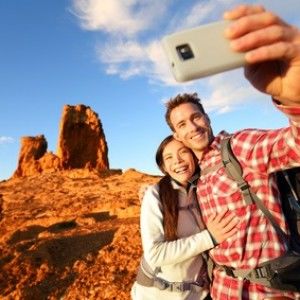 ng adventure riding and exploration and contributes to major magazines dedicated to motorcycling, along with working as a freelance professional photographer for well recognized brands in the industry. He also collaborates in prototype gear development associated with motorcycles by helping with the testing and production process. Alex owns the only motorcycle consulting business firm in the world for travelling in Latin America.
Famous for his expedition from Alaska to Argentina, Chacon made a 500 day solo trip raising money for the less fortunate children of Uganda in Africa. With an incredible and inspiring story, before the journey Alex sold everything he had including the TV, car, and clothes before departing from El Paso Texas, his hometown. With nothing left to return to, he spent 3 years living out of his motorcycle and rode through 36+ countries, crossing 75+ borders, and driving over 200,000kms discovering the most unique people and places on earth for his charities.
Thanks to the help of the famous selfie, blogging, and writing, he was able to capture the epic adventure in a new and in-depth way which has never been done before. Through the unique images, videos and YouTube viral films including "The Modern Motorcycle Diaries" his work has been featured in many newspapers, magazines, TV news and interviews, and has been dubbed the epic selfie video master of all time by using a GoPro camera on a stick to help capture every moment of his journey along the way with amazing scenes.
COMPETITION
TALK English Schools is giving upcoming students the chance to win an iPad Mini with our new online competition! For your chance to win all you have to do is like our TALK Facebook page and upload your very own selfie picture with the hash tag #summerselfie. Competition runs between 4th of July to August 22nd so hurry and be quick to enter!