Benefits to your career from studying abroad
Studying abroad is one of the most exciting times or their lives for international students, and for TALK English Schools students their time in the United States is bound to be a life-changing experience. This is the time when new career possibilities and prospects open up and start students thinking seriously about their career choices and career development once they have finished studying. The benefits to studying abroad are both in terms of career advancement and – what goes along with that – financial success.
Benefits of Study Abroad for Your Career
Studying abroad provides students with specific skills that are needed to be successful in the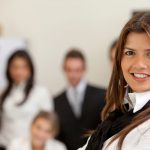 workplace. Here is how studying abroad can help jump-start your career.
Find Jobs Faster – Because of your degrees and skills, you are more likely to find and keep the job you were studying for. Those with the recognized degrees tend to be higher up the work ladder, and more suited to the environment and culture of larger corporations. Studies show that students with the proper skills in their preferred career are more likely to find employment within the first year of their job search.
Higher Salary – Those who have a degree fitting with their chosen career will also find that their initial starting salary is higher than those without such qualifications. Large corporations are more inclined to pay higher salaries to appropriately skilled individuals.
Confidence – Students who have studied abroad for their career have often developed more confidence and maturity.  They are more appealing to an employer looking to hire somebody. Your confidence is directly related to knowing that the skills you have learnt are the skills necessary for the job for which you are applying.
In a recent graduate survey, it showed that study abroad students are able to land jobs related to their major much sooner after their graduation period, and also with a higher salary offered.
Findings Include:
| | |
| --- | --- |
| $7,000      | This is roughly the amount MORE that college graduates on average earn at the beginning of their careers, compared to those US college students who fail to graduate. |
| 97% | The percentage of students who were able to secure a job within the first year after graduation. |
| 84% | The percentage of students who believe that studying abroad helped them with building their valuable job skills including communication, adaptability, ambition, tolerance, cultural training, and language proficiency. |