Things to do in Atlanta

Atlanta is home to a great variety of attractions that any TALK English Schools student can enjoy while living and studying in Atlanta Georgia. This wonderful city caters for study abroad students and can provide plenty of fun and excitement when looking for time away from your study. For those TALK students who want to learn more about the history of America or have an interest in design, here are just some of the great attractions that you can visit while studying abroad to make your time just that little extra fun by yourself or with some of your friends.
Jimmy Carter Library and Museum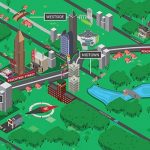 The Jimmy Carter Library and Museum is a large and iconic museum which is home to the US president Jimmy Carters papers along with materials that are related to the carter family's life and carter administration. This museum offers a great range of knowledge and historical presence that all students can enjoy. This museum was opened on October 1986, and is opened generally between 9am to 5pm.
Museum Of Design Atlanta
The Museum of Design Atlanta is a specially designed museum which is dedicated exclusively to the celebration and study of everything in design. This museum is located at 1315 Peachtree Street in Atlanta, and features some of the most outstanding design exhibits available that all students will feel inspired and wow at what is held here.
Chattahoochee River National Recreation Area
The Chattahoochee River National Recreation Area is a great place to visit for those who are looking to have fun out in the sun. This recreation area is located at 1978 Island Ford Parkway, Sandy Springs, Atlanta, and covers an area of 39.62kms. The Chattahoochee River National Recreation Area offers relaxation and promotes a great place for those who want to get back to nature.