USA student travel

For TALK International students studying and traveling abroad there are many things that you need to think about when it comes to USA student travel to make your trip that extra safe. Here are some traveling USA tips when it comes to international student travel in the USA.
Be Safe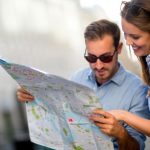 When it comes to travelling abroad it is important to be safe as possible while you visit a new country. Here are some of the things that you can consider to keep yourself safe at all times when in your host country.
Keep all medicines close by you and easily accessible in an emergency. A backpack or a carry-on bag is a great place to secure your medications with you at all times.
Know your schedule for any travel, this includes lengths of flights or any stopovers. When you have reached your host country make sure you carry extra food and water if you have a long trip to reach your destination.
Keep your passport in a safe place and in your possession at all times. A security pocket with belt is a great way to keep your passport on you at all times.
Never carry large amounts of cash with you when travelling. Use credit cards for most of your transactions if possible as if anything is stolen you won't lose a lot of money.
Although obvious, always look in both directions before you cross the street. You may not be used to the way of driving and traffic may come out of nowhere.
Always lock car doors when driving, and wear your seatbelt at all times when in any sort of car.
Make new friends but always be aware of the situation around you that may be dangerous or unsafe including places with alcohol, unsafe sex, drugs, and dark areas where not many people are in the area.
Be Healthy
As well as being safe it is important to be healthy as well. Here are some considerations you can use for your health when you are traveling in the USA for study.
Be up to date on all your immunizations
Have proper sun protection. It is always best to wear a hat, sunglasses, and sunscreen that has an SPF of 15-30.
Wash your hands before and after eating and using the restroom. It is a good idea to carry a hand cleaner with you in case there are areas were clean water and soap isn't available.
If You Become Injured Or Sick
If you become sick or injured while traveling abroad it is important to:
Seek medical care immediately if you develop a high fever and headache, are bitten by an animal, have a non-healing skin wound, or experience bloody diarrhoea.
Immediately check with your health insurance provider about helping with the costs of any medical attention that may be needed.