Top 10 Miami Beach Restaurants – Student Picks
Just enter— best Miami Beach restaurants—into the search bar on your computer, you'll get 10's of millions of responses and many will say "hot" somewhere in there because that's exactly what the dining scene is in Miami South Beach.  If you're attending TALK's Miami Beach school, take advantage of the Miami Beach restaurant renaissance that's going on and make some memorable meals part of your US experience!
TALK Student Choices of the Top 10 Miami Beach Restaurants
Top Miami Beach restaurants according to our students at TALK Miami Beach.
"My favorite place is Juice & Java because the food is amazing and cheap."  Miami South Beach TALK student, Juan Vincent Salazar Garcia says, and he's not alone.  SoBe locals rave about this healthy, inexpensive neighborhood joint.
2. For a "great Italian restaurant.." Tomasz Buganik recommends Fratelli La Bufala saying, "everyone can find something there they like."
A quick look at the Yelp photos will tell you that the pizzas are a specialty of the house.
Students also listed the following as deserving of a mention for best Miami South Beach restaurants: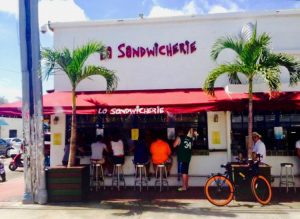 4. South Beach locals love La Sandwicherie, which serves up the freshest, most delicious sandwiches on the beach.  The best thing about it is that everything is under $10.
5. Yardbird Southern Table & Bar (a top pick among TALK Miami's students too)
6. 11th Street Diner is another popular breakfast or lunch choice. It made an appearance on the Food Network.
7. For a date or special occasion, Hakkasan is a top pick.  Award-winning Cantonese Cuisine served in a beautiful restaurant at the Fontainebleau Hotel.  Dim sum, which is served on weekends, is a fun group outing.
8. Pane & Vino
9. CVi.Che 105.
10. Finally, you're in the USA and you're in the so-called capital of Latin America, so trying the Latin Burger is a must.  Check out the best burgers in Miami Beach, according to TripAdvisor reviews.
While attending TALK School in Miami South Beach you can enjoy the sun, the sand, and food from every corner of the globe!