TALK Miami, Fireworks and the 4th of July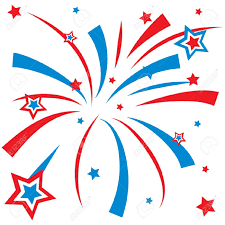 From cruises to concerts, food trucks and fireworks displays, Miami makes the 4th of July a day of mid-summer fun and festivity.
This July, America will be 242 years old – that's if you accept that the date of July 4, 1776, when the Declaration of Independence was adopted is the beginning of the nation's existence.
TALK Miami will make 4th of July, 2018 a week-long celebration
Fourth of July falls on a Wednesday so there the time to celebrate the day is short.  At TALK Miami (Brickell), however, we will make up for this unfortunate timing as we plan to extend the holiday spirit over the entire week!
Students will be invited to wear colors of our flag (one, two or three colors) during the first week of July.  TALK Miami staff have arranged a potluck party so the students can bring dishes to share.  The entire week will be dedicated to US independence; movies, presentations, quizzes, etc.
Apart from all the in-house fun, students and staff alike are sure to participate in the many celebrations that are held across the city and Dade County.
There are the many planned 4th of July fireworks displays accompanied by concerts, games, and competitions for kids. TALK Miami students favor the Key Biscayne and Miami Beach fireworks display, both close to the school and where they can enjoy the view while picnicking on the beach.
The City of Miami Beach hosts its annual Fire on the Fourth Festival from 11 a.m. to 9 p.m. at the North Shore Park Bandshell at 73rd Street and Collins Avenue. Enjoy live music, the tasty fare from food trucks and the fireworks from the beach.
Crandon Boulevard on Key Biscayne is the setting for the island town's annual 4th of July parade of colorful floats and bands which goes from Harbor Drive to West End, ending in the evening, of course, with a great fireworks display.
Coconut Grove, Coral Gables and Bal Harbor all host picnics, entertainment, and fireworks.
In the downtown Miami district at Bayfront Park, the Birthday Bash involves an all-day event of live music, with activities for kids, parades while you enjoy the traditional 4th of  July food – hot dogs and potato salad.
To all our TALK students, Happy 4th, and enjoy America's Birthday Bash, wherever you are!