Fun Outdoor Activities in and around Fort Lauderdale
Fort Lauderdale, like all of southern Florida, is an outdoor playground.  The locals enjoy their sun-filled weather at the beach, on the ocean, and all the outdoor activities and attractions.  The students of TALK's Fort Lauderdale location have voted, and here are some of the winning outdoor activities they recommend for your time off in Fort Lauderdale.
TALK Fort Lauderdale Student Choices for The Best Outdoor Activities
Monica Lauand says to make the short trip to Orlando, "not only because of the parks, Universal, Epcot, Magic Kingdom, etc…  but for sun and man-made fun!"
If you 'power walk' the malls of the outlet centers, you can really feel like you're getting great exercise in addition to great deals.
Sawgrass Mills, Galleria, and Miromar are 3 of the favorite temples to outlet shopping.
TALK Fort Lauderdale student, Thais Simerira Jacob is from Brazil, and her absolute favorite outdoor activity  "is going to the beach, where you can also enjoy the beautiful parks around for a picnic."
Horseback riding is another pick, and you can easily combine a trip to the beach with a horseback ride—come on, you know you can see yourself crashing through the surf on your steed.
Stand-up-paddle boarding and kayaking are some fun activities that let you experience the ocean and its wildlife up close!
Check online for local specials and Groupon deals.  Popular, reliable, paddle board and kayak rentals can be found near all beaches.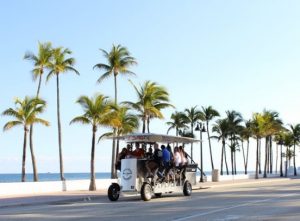 If your idea of fun involves sitting back and raising a glass, Cycle Party can help you optimize your liquor-soaked leisure.
Cycle Party takes you on a local tour, and pub crawl.  You sit at a 10-15 person, U-shaped bar with pedals at your feet—YAHSss bonus exercise—and drink and tour your way through Fort Lauderdale.
There's no shortage of outdoor fun to be had in Fort Lauderdale.  It's important to balance your class-time studying English with some impromptu down-time practice speaking English—make every aspect of your learning fun.