Fort Lauderdale Travel City Facts

Fort Lauderdale, also known as the Venice Of America, is a coastal city which sits next to the Atlantic Ocean in Florida. The name Venice of America came about because of its large canal system of water that flows throughout the city. With great cultural and historic appeal, Fort Lauderdale shows off a range of dynamic beauty like no other. Fort Lauderdale is a great place to visit when you want to learn English at the TALK English Schools. International students are able to experience the life and wonder of this Florida city and all it has to offer. Here are Fort Lauderdale travel city facts when looking to study in the Venice Of America.
Population and City Facts: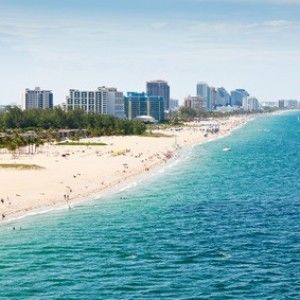 The Fort Lauderdale population is estimated to be over 170,000. Located 23 miles north of Miami, Fort Lauderdale features a land area of about 38.6sq miles and an elevation of about 9ft. The population density houses about 4,761 people per square mile and is home to over 60 distinct neighborhoods. The telephone area code for Fort Lauderdale is 754 or 954.
Currency:
The Fort Lauderdale currency is in US dollars. $1 = 100 cents. This currency is one of the major trading currencies in the world and is the same throughout the entire USA.
Emergency Number:
The Fort Lauderdale emergency number is 911. This is consistent throughout the entire USA.
Language
Fort Lauderdale's major language used is American English.
Opening Hours:
Banks:
Banking hours in Fort Lauderdale are generally between 09.00am to 17.00pm. Banks allow access from Monday – Friday with some open on Saturdays for half the day. 24 hour ATM's are available in the area.
Shops:
Shopping centres and small retailers generally open between 09.00am to 21.00pm. Depending on the store some shops may stay open 7 days a week. Fort Lauderdale holds a great deal of different shopping opportunities to choose from and is home to some great bargains.