Atlanta Travel City Facts

Atlanta is the capital of the state of Georgia in the USA. This city was first established in 1837 at a two-railroad intersection and has since become a thriving center of different cultures and rich and dynamic history. This city is the primary transportation hub for South-eastern USA and can be accessed by rail, air, and highway. Today Atlanta thrives with endless opportunities for employment and enterprises.  The diversity of its population is very attractive to any TALK students looking to study in an energetic and multicultural American city. Here are the Atlanta travel city facts you can use: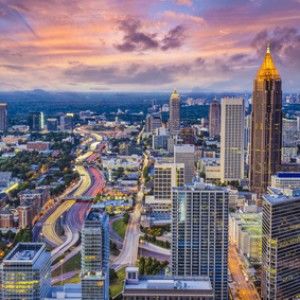 Population and City Facts:
The city of Atlanta, Georgia boasts a population of over 400,000. This is the most densely populated city in the U.S. with an estimated 3,188 people per square mile. This city spreads over an area of 132.4sq miles, at an elevation of 738-1,050ft. The time zone in Atlanta is in EST (UTC-5). During the summer it is EDT (UTC-4). The whole Greater Atlanta metropolitan area is home to over 5,400,000 people and is the 9th largest metropolitan area in the USA.
Language
Atlanta uses American English as their primary language.
Currency:
Atlanta's currency is US dollars. Each $1 equals to 100 cents. One of the world's major trading currencies, the US dollar is the currency of exchange throughout the United States Of America.
Emergency Number:
Atlanta's emergency number is 911. This is the same throughout the USA.
Opening Hours:
Banks:
Atlanta's banking hours are between 09.00am to 17.00pm Monday-Friday. Some banks are open for half the day Saturdays. Most ATMs are open 24 hours.
Shops:
Atlanta's shopping centers and smaller retail shops and outlets are open between 09.00am to 21.00pm. Some stores are open 7 days a week, others 6 days. Atlanta offers a great diversity of shopping options with many major shopping malls, small shops outlets and large stores.