Travel Documents for the International Student

In previous articles about how to prepare for your study abroad trip, we went into some detail about the most important travel document (along with your passport, of course) you must have to enter the USA – your student visa.
Travel documents you cannot do without
The first thing to understand is that you need a lot of documents to enter the USA as an international student, and, because of all the travel documents you need, lead time is important in order to process your application, obtain a passport (if necessary), a visa, air tickets, preplan any excursions which can be paid for in advance, and save for your trip.
Passport
If you are going to study English in the USA, the first document you need is a PASSPORT.
"I began my process nine months before the trip – for several reasons: the first, for money, because getting a passport and a visa is not cheap. Also, if anything went wrong I would have the opportunity to deal with the problems without impacting the dates of travel." TALK San Francisco student.
If you don't have a passport, apply for one as soon as possible.  If this is your first passport, when you go to apply for it, check what documentation you need to bring to your country's Passport Application Center, or to submit by mail. Generally, the following documents are required:
Your birth certificate
2 recent passport-sized photos
Certified identification (like a driver's license)
Your passport application
Payment
If you're renewing an old passport, check if you can leave behind your birth certificate in exchange for your expired passport.
If you already have a passport, double check that it's not expired and that it won't expire for at least six months beyond the dates of the trip.  Make sure there are enough empty pages in your Passport.
     2.  Student Visa
Refer to the previous section about the Student Visa for the USA and how to obtain it.
     3.  I-20 Form
This is what the US State Department says about what you need with you when you enter the USA:
"After you present your passport, visa, and Form I-20 at the port-of-entry, a CBP official will make this decision. Once you are allowed to enter the United States, the CBP official will provide an admission stamp or paper Form I-94, Arrival/Departure Record."
The following travel documents are not needed at the point of entry into the USA, but they are nevertheless Very Important:
     4.  Airline tickets or e-tickets
     5. International Student Identification Card
     6. Proof of age card or driver's license
Do you plan to drive overseas?  If you plan to drive overseas, find out if your driver's license is acceptable or you may need to obtain an International Driving Permit (IDP).   You should check with the embassy of the country where you plan to travel to find out more about driver's license and car insurance requirements.  If you will be residing overseas for an extended time, it is a good idea to obtain a local driver's license as soon as possible, since IDPs have a limited validity.
     7. Details of your Country's Embassy or Consulate in the USA
Are you prepared for an emergency?  Make sure you have the contact information for the nearest embassy or consulate where you are going.
      8. Photocopies of all your important documents
Make two photocopies of all your travel documents in case of emergency or if your documents are lost or stolen. Leave one copy with a friend or relative at home. It is always a great idea to let at least one person know exactly where you will be staying and how to contact you in an emergency. Carry the other copy with you stored separately from the originals. Documents to make copies of include:
Passport ID page
Your visa
Travel Insurance
Health Insurance
Details of your School: address, phone number, contact names
Itinerary
Accommodation confirmation
Airline ticket and Reference No for your ticket
Driver's license
Credit cards brought on the trip
This kind of attention to detail where documents are concerned is vital and it gives you peace of mind while you are away from home.  You will be doing a lot of traveling – hopefully – while in your host country, and that makes it more likely that you could mislay or leave behind important travel documents.  One more tip is to take photos of all documents with your smartphone.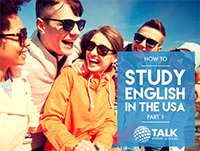 Let's us help you with your checklist! Download our e-Guide How To Study English in the USA and know everything about travel documents.