All about I-20 Certificate of Eligibility

The I-20 Certificate is necessary to apply for an F-1 student visa through a U.S. Consulate in your country or to maintain F-1 student status in the United States. Your chosen school, university or accredited institute of learning in the USA will start processing the I-20 Certificate for students after they have been admitted.
Why is the I-20 Certificate Important to the Student Visa Application Process?
The I-20 is proof of acceptance to your English language school in the USA. It lists your program start and end dates. With the I-20, you can apply for the F-1 student visa. Only full-time students receive an I-20.  You must have a valid I-20, at all times, while studying in the USA.
What is an I-20?
Your English Language School of choice will issue an I-20 certificate to students who have enrolled to attend classes full-time. The I-20 Certificate is also referred to as the Form I-20.  The I-20 will enable you to apply for a student visa at your local U.S embassy or consulate.
Can I change my start date after receiving my I-20?
You may change your start date before entering the U.S. You would need to contact your English Language School as soon as you can to let them know about the change. At that time, your English School will mail you a revised I-20 with your new study dates. Once in the USA, you are unable to postpone your start date.
How will I receive my I-20?
Once your English School has received the documentation and payment requested from you, an I-20 will be issued in about 3-4 days. If shipping charges were paid, it will be sent to the international address provided, using an international express delivery company.
For how long will my I-20 Certificate be valid?
The length of time will be determined by the course you will be taking.
Why is an I-20 important?
The I-20 signifies that the student has been admitted to a U.S. school that is approved by the U.S. government. F-1 students must maintain a valid I-20 by studying full-time at their English School in the USA. If at any time the student does not maintain full-time status, he/she must return to their country.
What is your English School in the USA's application deadline?
At TALK English Schools, there is no application deadline. Classes start every Monday (Tuesday, when a holiday) during the year. TALK International will process your application and issue your I-20 within 3-4 business days. Once you receive your I-20, it may take two to three months for you to receive your F-1 visa.
What documents do I need in order to obtain an I-20?
The following must be submitted in order to process a student visa request (Form I-20):
Completed Application Form for the English School at which you intend to study.
Copy of student's passport biographic page. If you are traveling with dependents (spouse or children), you must include copies of each of their passport biographic pages.
Copy of student's current US visa and port of entry stamp (if any).
Evidence of sufficient financial funds to study in the USA. For TALK English Schools, a minimum of $300 USD per study week must be shown in a bank letter from your bank or a bank statement dated within the last three months. If there are any dependents, $100 USD per person / per week must be added. The letter or statement must clearly state the currency used and the name of the account owner.
If financial support documents belong to someone other than the student, a sponsor letter is required.
$150.00 non-refundable application fee (plus $75 shipping charges if the I-20 Certificate needs to be mailed outside the United States) are due at the time of applying to TALK English Schools.
What Happens After I Receive my I-20?
Once you have received your I-20 Certificate, you can apply for your F-1 visa. To acquire this, you must fill out the online visa application, pay the non-refundable visa application fee, and schedule a visa interview at a U.S. Embassy or Consulate.
For your Visa Interview, you need to have completed these requirements:
Paid the SEVIS I-901 fee and print the receipt as proof of payment for your visa interview. Use the Form I-20 to pay the SEVIS I-901 fee online at www.fmjfee.com. 
Completed the Online Visa Application – you will be required to upload a photo to complete the application
Once completed, print the application form confirmation page to bring to your visa interview
Schedule a visa interview at a U.S. Embassy or Consulate.
Your Visa Interview
Be sure to take all required documents with you to the interview, including:
Passport
Nonimmigrant Visa Application (Form DA-160)
SEVIS 1-901 fee payment receipt
I-20 Certificate of Eligibility
PLEASE NOTE: Additional documents may be required. Review instructions on the website of the Embassy or Consulate where you will apply.
All required documents must be brought with you when entering the U.S. Please arrive on or after the earliest admit date printed on your I-20. You must enter the U.S. before the program start date.
Congrats! With your I-20 in hand, you've taken another big step toward your dream to study in the USA!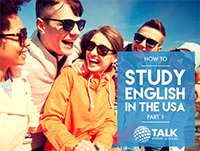 Learn more about visa and what to expect from the application process by downloading now our e-Guide How To Study English in the USA!