Study in the USA to Meet New Friends!

When you live in a new country, it pays to meet the locals, to find new friends, preferably those who are NOT natives of your host country!  If you have come to the USA to learn English as a second language, while you don't need to avoid people from your country, make sure that they are part of a mix of other fellow international students and American friends and that they use English to communicate with each other.
Why  international students should seek out new friends when abroad
Meeting new people is a must for a study abroad student, and for a study abroad student who has come to the country to learn English, this can be one of the most effective ways to learning to speak the language like a native.  There are many ways to meet people when you are studying abroad.
Sign up for clubs, teams and events that are aligned with your interests or which pique your curiosity.  This will not only help you develop a vocabulary associated with this subject but it is a great way to meet people who share your interests and to new friends.
Don't let cultural differences get in the way of forming friendships. Don't compare yourself to others and the way their culture, language, beliefs or event accents differ from yours. When you appreciate and respect those differences you will have made a huge stride in your personal growth.
Keep an open and curious mind as you meet all sorts of people from all sorts of places. Life will be far more interesting with that cultural and emotional sensitivity.
Participate in your school's out-of-classroom activities, including visits to local sites, get-togethers for meals and parties, and get to know your fellow students. A lot of them will be from other parts of the world and looking to make new friends with whom to share this experience in the USA.
Plan your own events with classmates and others. Seek out places of interest or activities which others have expressed an interest in pursuing, such as museums visits, beach picnics, hikes, volunteer activities, etc.
Organize a study group with your friends. Go to a favorite restaurant or patisserie and help each other with your class assignments.
Unplug! Do not escape into your cell phone if you feel uncomfortable – this is the time when it will pay you in terms of your learning, your personal growth, your future friendships and your career development – to step out of your comfort zone.  Remember, most of your fellow students will feel as tempted at times to retreat into their virtual world.  Resisting this means enriching yourself beyond your wildest dreams.
Studying abroad is both exciting and nerve-wracking.  Stay mindful of your purpose for being here, and embrace the idea of meeting the locals, immersing yourself in the culture, forming new friendships, a journey of discovery and a huge opportunity for personal growth.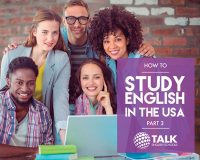 Study abroad is so much more than classroom learning.  It's a time of forming lasting friendships, having fun and of discovery.  Download our e-Guides series and learn more to make this study in the USA adventure the best time ever!