Student Accommodation Options: Independent Living
Independent living in a single rented apartment or long-stay hotel while studying abroad is usually the most expensive student-housing option offered by schools.

The Benefits of Independent Living while Studying Abroad
Although living independently by renting an apartment or staying at a hotel while you attend English school in the USA is the most expensive of accommodation options, there are some clear advantages.
This type of accommodation affords you ultimate independence.
You can live like a local – but remember that, unlike homestay, you are not obligated to immerse yourself in the language and culture.  Independent living is a good option if you are prepared to actively and consciously participate in local life.
It can make economic sense if your course extends for 6 months or more. In these cases, you can rent a 2 or 3 bedroomed apartment to share with other long-term students and share living costs, bringing down your overall cost quite considerably.
If you value your privacy, independent living in an apartment or hotel accommodation is expensive and you must make an effort not to get isolated in your room. You must also take responsibility for your health, daily chores around the apartment, shopping, budgeting, transportation and lifestyle choices. Also if you choose independent accommodation try to avoid neighborhoods with high immigrant populations, especially if their native tongue is the same as yours!
If you want to arrange your accommodation independent of the school, an excellent online tool to determine the best prices for hotels and short-term lease apartments is trivago.com. This site gives up-to-the-minute discounts and deals on dozens, if not hundreds, of properties in all cities in the USA, and beyond.  It is important to remember that with hotel stays, the rates are variable and usually rise in high season.
The cheapest and most efficient form of accommodation is with a host family. This way you can experiment American customs, cuisine and family life, something which is normally not experienced by foreign tourists. You will also have the opportunity to hear natural English without the mistakes which the other students make.
Another alternative is on-campus or off-campus accommodation, where you will be surrounded by other foreign students with lots of opportunities to talk, but perhaps best not to listen too much!
Your decision about your study abroad accommodation will depend on your budget and also on what home life you feel is best for you based on all sorts of factors. From the host family option to independent apartment living, off-campus or on-campus residences – one of these is going to suit your objectives and your pocket perfectly!
For more information about prices and what is included in the different types of student accommodation, go to our e-Guide table: Accommodation Options at TALK English Schools. TALK arranges Homestay, On-Campus and/or Off-Campus options each of their centers. The Application Fee is $150.
The accommodation table includes average rates for other types of independent accommodation options – Short Term Rentals (studio or 1 bedroomed), Youth Hostels (where available) and Hotels.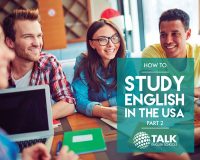 Download now our e-Guides series and learn more about the benefits of independent living for international students in the USA!