English Schools and Academic Standards
In order determine what kind of English School in the USA best fit your needs, the first thing to look at is the academic standards.   Academic standards can be measured in a fairly precise way because the private language schools, such as TALK English School, must be institutions that subscribe to authorized accreditation and inspection bodies in the USA. These bodies set strict standards for the quality of teaching, facilities and student care, and carry out regular inspections to make sure these standards are maintained.
Academic Standards and Reputation
Check that the school you choose is fully equipped for language learning. Computer-assisted learning equipment, a TV/Video in all classrooms, interactive technology and self-access materials or a library should be included in facilities of Smart and Premium Schools. Language and cultural immersion activities should be on offer as well.  Enquire if there is somebody who can speak your language in an emergency, if necessary.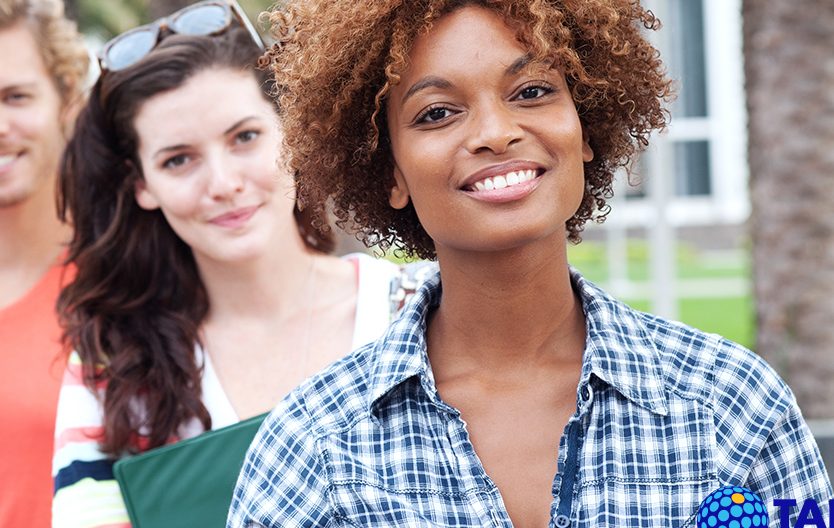 We have discussed in a previous blog the difference between Smart, Premium and Budget Schools.  Both Smart and Premium schools are usually accredited schools, offering good quality academics and high-quality, certified and experienced English teachers.
The difference between Smart and Premium Schools is primarily about expense with Smart Schools boasting high academic standards and therefore great value for money.
With innovative teaching technology and methodology, TALK English Schools is at the forefront of English as a Second Language education.
TALK teachers utilize the communicative approach of language acquisition, meaning that students are active participants in presentations, discussions and group work. These activities promote confidence, stimulate learning, and guarantee the best results.
Interactive whiteboards bring lessons to life by enabling course material, including our interactive course book, to be displayed on the board. Students are able to engage easily with the curriculum as it is presented by the teacher and accompanied by visual and audio exercises on the screen.
Academic Standards and how to Evaluate Your Academic Progress
At TALK English Schools, there is a placement test on your first day to evaluate your level of English proficiency
You are placed in the appropriate level based on your English skills. There are 10 levels, beginner to fluency. Each level takes 10 weeks to complete.
At the end of each week, there is a progress test, and a final exam at the completion of each level to show you have acquired the skills to move on to the next level
A Course Completion Certificate to document your success
LEVELS AND PROGRESS CHART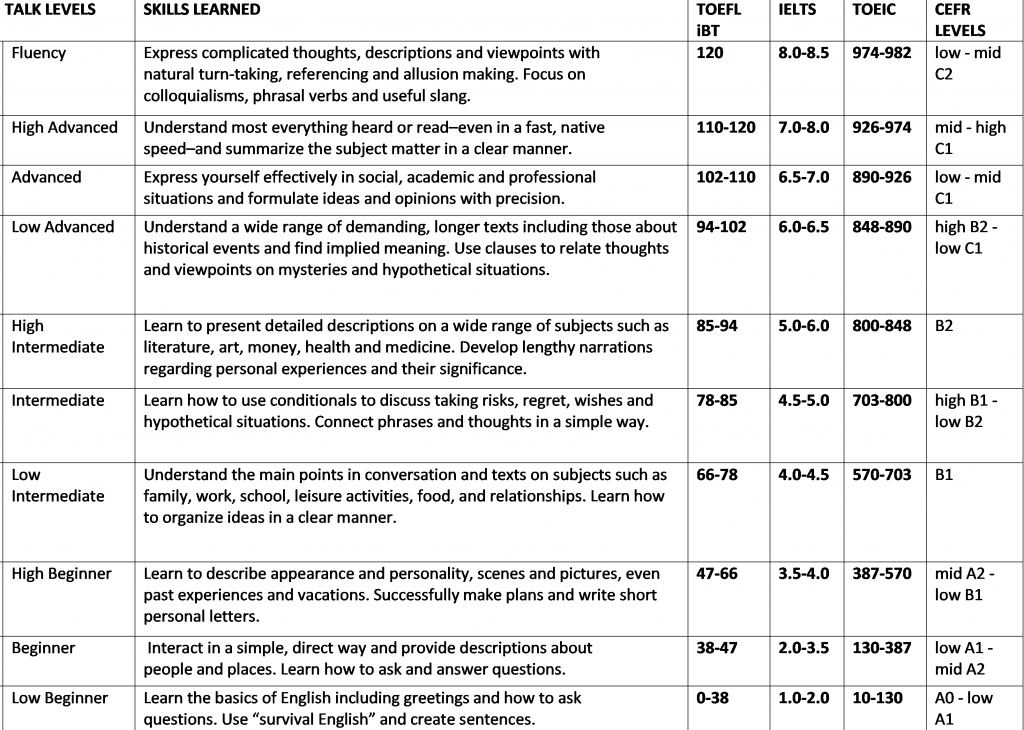 To describe the academic experience in the words of a previous TALK student:
"My experience at TALK has been wonderful because, since I've been here, I've grown not only in an academic way but also personally. Besides using the book and interactive technology, the teachers are always preparing different types of activities. They challenge us with writing, reading, discussions, presentations, things that I have never done before. The staff, the teachers, all the people who work here have been so helpful and kind. I feel like I'm home."                                              Fabiana Castellanos de Luca, Venezuela, TALK Fort Lauderdale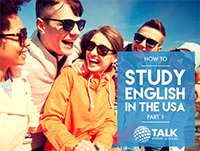 Download our e-Guide How To Study English in the USA and learn more about what to expect from your English school.