TALK San Francisco special activities that will make you fall in love with the city this Winter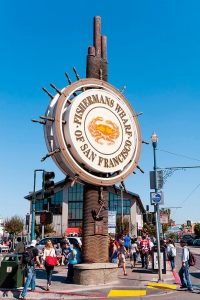 Millions of tourists and international students can't be wrong: the soft pace and welcoming vibe of San Francisco will make you fall in love at first sight with the city! San Francisco will make your learning experience in the United States special and unforgettable. TALK English Schools San Francisco has prepared a series of special activities for the first months of the year that will give you the perfect opportunity to experience the best the city has to offer.
San Francisco offers several internationally famous landmarks such as Golden Gate Bridge, Alcatraz, Union Square and Lombard Street, as well as its charming vintage streetcars and places to ride your bike. The city is also known for its diversity and for being a hub of technology and innovate companies. TALK San Francisco's new and modern facilities are in the Anchorage Square complex in Fisherman's Wharf, where you'll find many attractions including the famous crab that you MUST taste!
Check out the main activities that TALK has prepared for your winter in San Francisco:
Tours to landmarks
A visit to Alcatraz Island, the most well-known American federal prison which shut down in 1963, is one of the city's most popular tours. Students will take the ferry to the infamous island and take a self-guided audio tour in English or in their own language, inside and outside the prison. It's a great opportunity to take lots of selfies!
Another must-do is the tour of the famous Madame Tussauds Wax Museum. The San Francisco one was the 17th of the franchise to open, in 2014, and features wax statues of famous personalities from movies, music, politics and sports, including historical figures of the city. And… it's a five-minute walk from TALK's school!
Giving back to the community
In addition to practicing your English skills and meeting students from all around the world, TALK San Francisco's special activities also give you chance to contribute to the local community. During a volunteer activity with Project Open Hand, a non-profit organization that provides meals and nutritious groceries to help the elderly and ill recover and live healthier lives, you will assist in the kitchen preparing meals and organizing donations in the warehouse.
Improve your English skills + meet new friends = fun!
Some of the extracurricular activities inside and outside the classroom are the Luau Hawaiian Winter, a potluck themed party to warm up the winter; the launch of TALK Book Club, in which students will gather every two weeks to discuss the themes, characters and plotlines of the monthly book and watch its movie version;  and an exciting Scavenger Hunt: students will be given a list of San Francisco landmarks and race to see who finds them and publishes photos on Instagram with #TALKSanFrancisco faster! Don't forget to stretch before this one!
Other special activities
And there's more! The calendar of activities includes local basketball teams' games, movie sessions, ice skating classes at Union Square, yoga and other activities at parks and city calendar events. Keep an eye on the schedules and talk to Kristen Miller, TALK San Francisco School Director and Kaytlin Hancock, Student Services Coordinator, if you have any questions.
If you have not enrolled yet, you still have time to live this experience. Get your free quote now and become another passionate for the wonders of San Francisco!
📷 See more photos of TALK San Francisco students having fun on our Instagram.
💼 TALK San Francisco offers exclusive Business Courses that will boost your career. Know more!