Winter? What winter? TALK special activities in Fort Lauderdale will make you forget about the cold!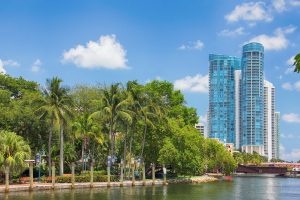 Another year begins at TALK English Schools and the special activities for international students coming to the United States to learn English are even more incredible. Our English school in Fort Lauderdale  has prepared programs that include beach, sports, barbecues, theme parks and trips to nearby cities in Florida such as Key West and Tampa. The mild winter with temperatures averaging 77°F help you enjoy a lot of action outside of school while you practice your English with new friends from all over the world.
For starters, no stay in Fort Lauderdale would be complete without an afternoon chill out on the beach after class. Fort Lauderdale Beach has one of South Florida's most beautiful shores and its palm fringed boardwalk is ideal for jogging, biking or rollerblading. On the beautiful Hollywood Beach, we recommend you to enjoy the sunset at one of its several outdoor cafes and catch the trolley to see the Arts Park in Young Circle, an epicenter of culinary culture.
If you are a sports enthusiast, check with our school staff to find out about local sporting events. You can cheer for the spectacular hoops of Miami Heat or get carried away with the Florida Panthers crushing on ice hockey. If you prefer practicing instead of watching, join your TALK Fort Lauderdale friends for soccer and volleyball on the beach or at Heritage Park.
And there's more, much more! Prepare your backpack for weekend getaways and enjoy all that Florida has to offer. Activities planned by TALK Fort Lauderdale include a tour to Universal Studios Florida in Orlando, a true immersion into the wonderful world of movies and TV. The trip to Key West, in the extreme south of Florida, will amaze you with its beautiful sights and coral reefs. If you like diving, this is your tour! Finally, get ready to discover the exotic Busch Gardens and its African-theme related beauties.
In addition to tours and trips to discover the beauties of Florida, TALK Fort Lauderdale offers a variety of activities for you to practice your fluency in English and get to know your new friends and their customs. Bowling, BBQ on the beach, tours of the Zoo Miami and karting are some of them.
TALK Fort Lauderdale Special Programs
The favorable weather of Fort Lauderdale during the winter ensures a rich and enjoyable experience for families with children. In January, our Family Program promotes an educational vacation for parents and kids. The package includes tuition, accommodations and the General English Part Time course with 16 lessons per week in classrooms with interactive technology. Children under 13 join the Kids English Course, full of age-appropriate cultural activities, toys and games. It is also time for our Junior Groups Program for teens, an excellent opportunity to learn English and meet young people from all over the world!
Keep an eye on the calendar of activities. Barbara Halwa, TALK Fort Lauderdale school director and Jamie Suell, TALK Fort Lauderdale activities coordinator, are available to answer any questions.
And if you have not enrolled yet, you still have time. Ask for a free quote now and get ready to enjoy the hottest winter of your life in Fort Lauderdale!
📷 Check out more photos of TALK Fort Lauderdale students having fun on our Instagram.