San Francisco Sights
San Francisco is one of California's most iconic cities and is home to some of the most famous attractions in the world. For TALK students traveling or studying in this grand city, there are many different San Francisco sights to be seen.
Union Square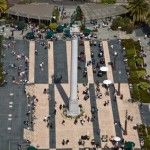 Union Square is a public plaza which is situated on 2.6 acres. It is the home of major department stores and designer boutiques that can be found on streets such as Powell, Stockton, Grant, Geary, Sutter and Post Street. Union Square is the shopping center of San Francisco and features the Westfield San Francisco Shopping Centre which houses the largest Bloomingdales outside of New York City. Union square is a great place out for TALK students to visit to do some shopping.
North Beach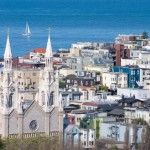 North Beach is the Italian quarter of San Francisco and isn't even a beach. North Beach is a neighborhood of European style restaurants, sidewalk cafes, and shops. The shops are located near Washington Square along Grant and Columbus Avenues.  Visitors can also see the Church of Saint Peter and Paul, Coit Tower, Telegraph Hill, and 1930s floor-to-ceiling murals within the tower depicting early San Francisco. North Beach is adjacent to Chinatown.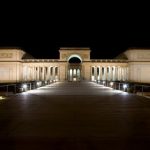 Legion Of Honor
Legion Of Honor is a fascinating museum which displays impressive collections of art. This museum is located at 100 34th Avenue at Clement Street, Lincoln Park, San Francisco and overlooks the Golden Gate Bridge. This museum was built to commemorate the soldiers of California who died during World War I. This museum features collections which include Rodin's Thinker, European art, and ancient art from 4000 years ago. The Legion Of Honor Museum is open from 9.30am to 5.15pm on Tuesday to Sundays.
Palace of Fine Arts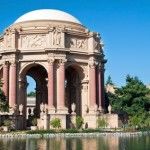 The Palace of Fine Arts was originally built for the Panama Pacific International Expo in 1915. This monument has an over-sized Roman Ruin feel about it and is located at 3601 Lyon Street San Francisco. The Palace of Fine Arts hosts art exhibitions throughout the year and tends to be a favourite venue for weddings and wedding photographs. Situated near water, when at night the Palace lights up, it creates an extraordinary effect and reflection on the water.