IELTS Test: All You Need To Know

The International English Language Testing System (IELTS) is the world's leading test of English proficiency for higher education, immigration and employment. More than 10,000 organizations, including many government departments, universities, business and scholarship programs rely on IELTS.
The IELTS test is essential if you would like to:
Immigrate to countries including the USA, Canada, Australia, the UK and New Zealand
Attend an American University
Test your English proficiency
Advance in your career
The IELTS scoring system is recognized globally, giving you a truly international result. It is also accepted as proof of English proficiency for some types of work permits as well as for immigration purposes.
You can trust the quality and security of IELTS because it is managed by three reputable, international organizations: British Council, IDP: IELTS Australia and the Cambridge Assessment English.
Where can I take the IELTS test?
IELTS tests are held in over 1,200 test centers around the world. TALK English Schools are accredited test centers, offering tests at several locations: TALK English Schools Fort Lauderdale, TALK English Schools Atlanta and also at off-site centers in Miami Beach and Santo Domingo (Dominican Republic). Click here to see which center is closest to you.
How does the IELTS test work?
IELTS offers two versions of the test to meet students' needs:
The Academic version is intended for those who want to enroll in universities and other institutions of higher education as well as for professionals.
The General Training version is intended for those planning to undertake non-academic training or to gain work experience, or for immigration purposes.
Test takers are tested in Listening, Reading, Writing and Speaking:
Listening
4 sections, 40 items
30 minutes

General Training Reading
3 sections, 40 items
60 minutes

OR

Academic Reading
3 sections, 40 items
60 minutes
General Training Writing
2 tasks 150 and 250 words
60 minutes

OR

Academic Writing
2 tasks 150 and 250 words
60 minutes

Speaking
11-14 minutes

Total Test Time is 2 hours and 45 minutes
IELTS results are graded on the unique 9-band scale, where 9 is considered an "Expert User". Universities accept scores around 5 (Modest user) to 6 (Competent user) and above.
How can I prepare for IELTS test?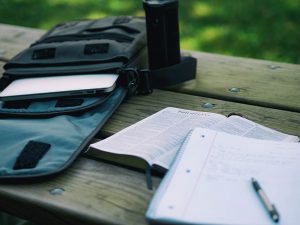 If you need help to feel secure and master the IELTS test, our school in Davie/Fort Lauderdale offers two different preparation options:
IELTS Workshop: a test overview followed by strategies for improving performance and valuable test taking techniques. You will take a practice test to get ready for the actual one.
IELTS Test Preparation Course: in addition to strategies and techniques to improve your results, you will cover more detailed writing, reading, listening and speaking exercises, review examples of IELTS test questions with detailed explanations and numerous practice tests.
To register for your IELTS test, click here. Be sure to select the correct test type, TALK test center and date.
For additional information, including our Preparation sessions, please click here or contact us at ielts@talk.edu.