English Group Study Programs

Customized English Group Programs provide study tours which are designed to provide the student with not only classroom-based language lessons but also cultural immersion. Formal classes combined with extramural activities enable students to learn the fundamentals of a second language – grammar, usage, vocabulary, etc. – as well as participate in the lives and lifestyles of native speakers. Students practice their language skills with the understanding that, in order to learn a language, they have to know how to use it in a meaningful, real-world way.
The Most Common Group Programs in the USA
Cultural immersion programs as they are known, as a way of more effectively learning the language are perfect for group programs because they provide an experience of learning the language through culture, art, restaurant, sports, music and other activities taking place in their host city.
Group Language Courses are offered to foreign student groups to study English in the United States. Courses are usually General English Part-Time, with a full cultural immersion experience. From junior summer camps to professional groups, Group Packages are by definition fully customized to accommodate the particular group's needs.
The most common type of English groups programs for English language schools in the USA, such as TALK English Schools, is Summer programs.
From June to August – the summer months in the USA – TALK English Schools run many of its Summer Programs such as the Summer Groups Programs and the Family and Kids Programs. Other types of English groups who take advantage of the American summer include high school groups from Asia and Latin America.
For schools like TALK Fort Lauderdale, says Director, Barbara Halwa,  "July and August are our busiest months." She elaborates: "Apart from these Special programs for children, teenagers and families, the school attracts lots of individual students who want to use their summer vacation to study English… schools in different countries getting a group together to come and experience the US."
Summer Program at TALK Fort Lauderdale is such a success, claims Barbara, because "Fort Lauderdale is the perfect place to combine studying with sightseeing. Whether it's the Everglades, Miami, Disney, Universal Studios, a great experience is guaranteed!"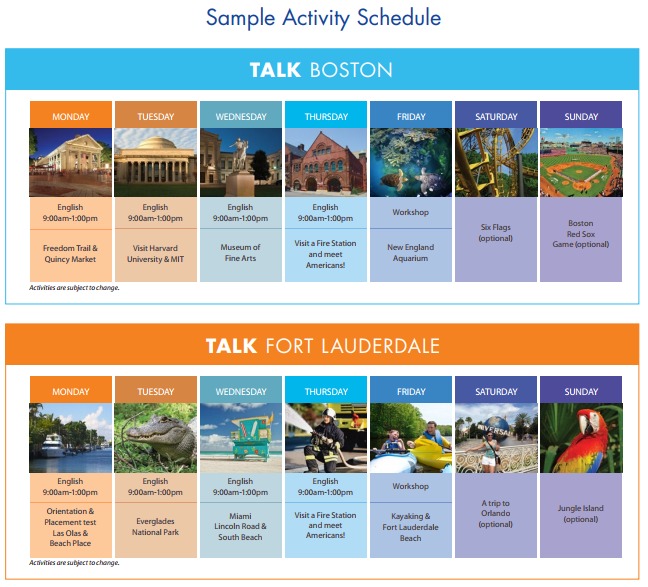 Adults and visiting individuals and groups from abroad mostly sign up for the 18-week General English Part-Time course.  This consists of listening, reading, speaking and writing English focusing on acquiring vocabulary, polishing grammar skills and pronunciation.  Families or groups who enroll can enjoy comfortable accommodations ranging from a double room with a microwave and mini-fridge to suite-style apartments with full kitchens.
For visiting Summer Groups, students come from all over the world, Brazil, Colombia, South Korea to Turkey.  TALK English Schools organizes everything starting with the airport pick up, accommodation in different types (homestay/hotel/apartments), placement test, classes, graduations, meals, trips, and excursions.
The mix is great with students from dozens of different countries and ages from 4 – 75!  In fact, the first summer group program offered by TALK English Schools was attended by a group of Japanese seniors who wanted to experience life in America on a college campus. They wanted to live on the college campus, stay in the dorms, eat at the cafeteria and of course, learn English and see Boston.
TALK Kids' English Course, run by TALK English Schools subsidiary TALK Kids Inc, provides a fun and educational vacation experience for children.  The Kids' Course is packed with activities, culture and language learning.
It's all about having fun while learning English!
Children get placed in classes based on their English level
Small group sizes allow teachers to focus on individual needs
The kids' rooms are comfortable and equipped with lots of age-appropriate materials, toys, and games
Fun activities include story times, scavenger hunts, outside play time and lots more
Kids love our "Special Surprise Fridays!" These could be a field trip or an ice cream truck at school.
This year TALK Boston and Fort Lauderdale are offering their annual Summer Junior Package "Adventure in America" Group Program from July 8 – 28, 2018.  The minimum age: 15 for individual students, 14 for group students. Find out more here.