Homestay or Student Residence? How to choose the Perfect Accommodation in the USA

One of the aspects that requires more research and dedication when planning your journey to learn English in the United States is your accommodation choice. After all, this will be the place where you will rest after school hours and after having fun in your host city, as well as where you will relax, study, eat, shower… And be sure of something: choosing the right accommodation can even help you improve your English language skills!
TALK English Schools offers different accommodation options so you can choose the best alternative according to your personality and preferences, the time you plan to spend studying in the United States and, most importantly, the one that best fits your budget.
Homestay
Homestay is one of the most popular and economic options for international students. You will occupy a bedroom in an American family home, having a real cultural experience and practicing English outside the classroom. Families participating in the TALK Homestay Program are selected, among several criteria, for their ease of access from home to school via public transportation. In exchange for your accommodation in a safe and comfortable environment, you will participate in family activities, contribute to house chores and get involved with the local community.
Different meal plan options are available (see table below). It is such a rich experience that it's very common for students to keep a good relationship with their host families even after returning to their home country.


Prices are valid for 2019. There is an accommodation application fee of $75.
Student Residence
Gaining or securing your independence and sharing your experiences with other students of different nationalities are some of the advantages of student residences. These accommodations are usually closer to schools, eventually within walking distance, and you can share your room with one or two people – sharing expenses will help you save for more fun times during your stay!
Other great advantages of residences are comfort and practicality. Some offer furnished studio apartments with kitchen, cable TV and the possibility of enjoying the amenities of common spaces such as laundry, pools, bike racks… Check out the particularities of each residence in the tables below.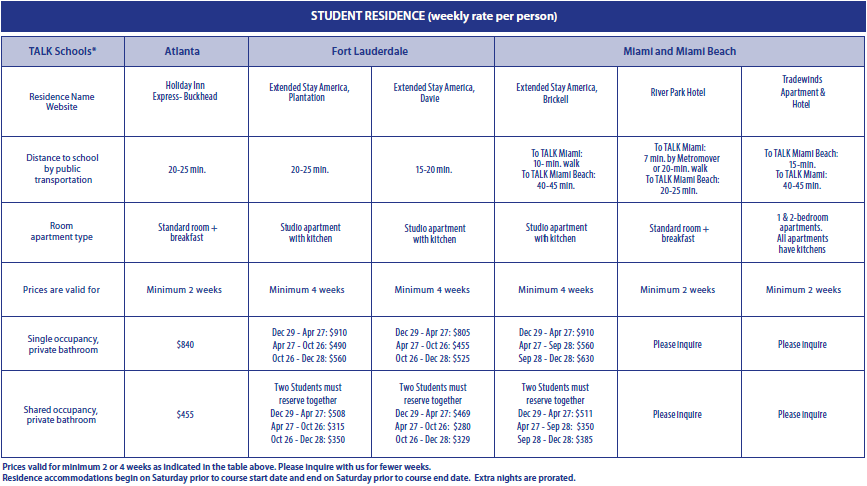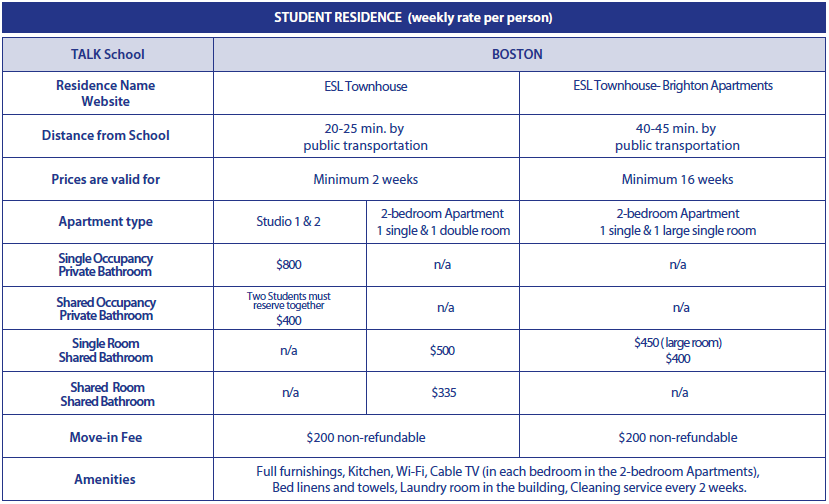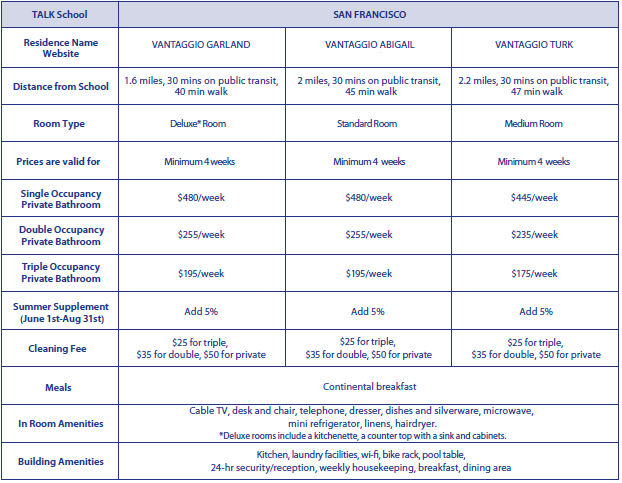 Prices are valid for 2019. There is an accommodation application fee of $75.
Contact us and ask for your free quote to start your journey to learn English in the United States. We guarantee such comfortable accommodation that you will feel like in your second home!