Volunteering and Holiday Celebrations mark TALK Atlanta students' Fall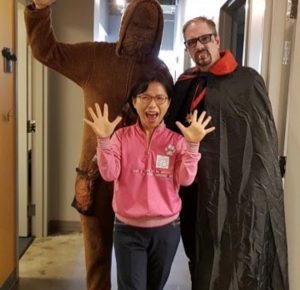 Fall is among us, and although the weather is getting chilly, TALK Atlanta's special activities are heating up the end of the year! From a Halloween Costume Contest to volunteering activities, the school will provide plenty of fun for international students who come to learn English in the United States. Check out a little of what the school is planning.
Volunteer Activities
As Winter approaches, in October TALK Atlanta encourages its students to donate coats and sweaters to a facility that helps homeless people. In November, students will have the opportunity to improve their English skills by doing something different: reading for elementary school children. It will be a great experience that can both help students practice their language and motivate children to read daily.
Traditional American festivities
Halloween, one of the most traditional and anticipated American parties of the year, takes place in late October and is always celebrated in great style by TALK students. This year, Atlanta students will join a Halloween Fashion Contest to show all their creativity, get some laughs and scares from their classmates. In November, to celebrate Thanksgiving, the traditional holiday where Americans are grateful for the blessings they receive throughout the year, students will take part in a fun Cooking Class and learn how to make some of the most delicious sweets of Thanksgiving celebration menu.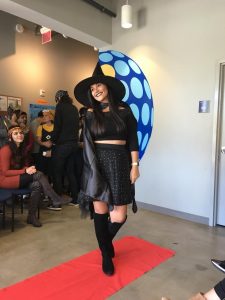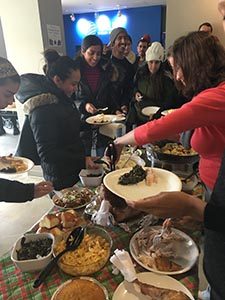 Christmas activities
December is the time of year when our sessions come to a close, but we keep the fun going around the holidays for our students who choose to spend Christmas with TALK! TALK Atlanta welcomes the excitement of the season with the "Secret Santa" game.  All students get to be Santa by leaving a gift under the tree and they also get to receive a gift before guessing who their Santa is! We also host an Ugly Christmas Sweater themed potluck party in which students will bring traditional dishes from their home country to celebrate Christmas while wearing the most ridiculous sweater possible!
In addition to being entertaining and helping students build lasting friendships, these activities are also excellent for practicing English language skills. Join us and immerse yourself in a true American holiday season with TALK Atlanta.
📷 See more photos of TALK Atlanta students having fun on our Instagram