New TALK Aventura General English 3 DAY SCHEDULE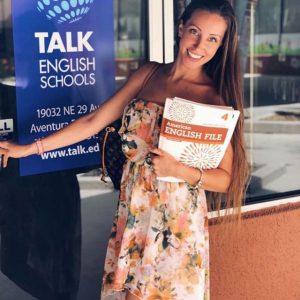 Located just North of the Miami metropolitan area, Aventura is a city of excellence just minutes away from the beautiful beaches of Hallandale, Golden Beach and Sunny Isles. It is a culturally diverse community and home to some of the largest and most well known shopping malls in the United States. With its luxurious residences and elegant skyscrapers surrounded by the sea, Aventura has established itself as one of Florida's most beautiful tropical landscapes.
TALK English Schools Aventura opened in 2007 in the Concorde Plaza, in the Aventura business district. Facilities include 13 classrooms, large reception and lounge for students, free parking area and is easily accessible by public transportation. Its prime location and courses at the best prices in Florida makes Aventura one of the preferred destinations for international students who come to learn English in the United States.
In addition to the General English full-time course (18 lessons per week, Monday to Friday) and part-time course (16 lessons per week, Monday to Thursday), TALK Aventura has launched an exciting new schedule option. Since August 5, 2019, you are able to study at a new special 3-day week schedule – Monday to Wednesday, from 9 am to 3:30 pm. Check out the detailed schedule below: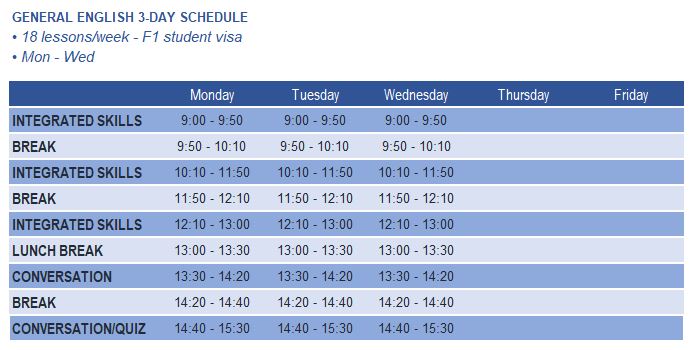 This is the perfect opportunity to improve your English skills, make friends from all over the world and enjoy all the amazing attractions that Aventura and Miami have to offer. Check out some of the activities you can enjoy in Aventura:
Aventura Mall – the second largest mall in the United States is home to luxury boutiques such as Gucci, Louis Vuitton, Givenchy, Cartier, Tiffany & Co. and stores such as Apple, Urban Outfitters, Nordstrom, Bloomingdale's, JCPenney, and Macy's. The food court is huge and the "Arts Aventura Mall" program displays artwork by Swiss artist Ugo Rondinone and the master of furniture Wendell Castle.
Aventura Arts and Cultural Center – besides being one of Aventura's architectural landmarks overlooking Biscayne Bay, it is a hub of culture with ballet performances, theater, concerts and stand-up comedy, as well as movie screenings for the family. The center also offers educational programs for Aventura community.
Gulfstream Park – this entertainment center is perfect for a day or evening trip for groups or individuals: shops, restaurants, steakhouses, casino, bowling alley and a racetrack with horse races year-round. Within The Village, inside Gulfstream Park, you'll find fashion, toys, furniture, and art galleries.
Boating and water sports – with the bay and ocean at hand, it is only natural that Aventura is a heaven for boating and water sports enthusiasts. You can hire boat trips from small to mega yachts, and even fishing boats. If you want to live a local experience, you can rent a boat, kayak or canoe to make your own journey through the waters.
Water parks – Miami's everlasting tropical weather is perfect for lots of water park fun, especially if you come to TALK during Summer. Among the best parks in the Miami area are Pinecrast Gardens, Miami Splash Pads, Helen Sands Pool Splash Park and James Archer Smith Park Splash Pad. Some of them offer free admission or budget prices.
These are just a few of the entertainment options for your free time while you are studying at TALK English Schools Aventura. Contact us to learn more about our General English Course and get ready to learn English in the most fun way!