Aventura: The ESL Student City Hack
Aventura is a suburban city 18 miles north of Miami. It's famous for its mall, the 5th largest in the US. But what makes this quiet town truly great is its proximity to Miami, Fort Lauderdale, and Delray Beach. Aventura may not hold all the adventure its name implies, but adventure is just 30-60 minutes away to the North, South or East. In this way, both the location and the nature of this city make it ideal for students.
Aventura – The Essentials
State: Florida
City: Aventura
County: Miami-Dade County
Zip codes: 33100-33162
Area codes: 305, 786
Local population is approximately 36,000 people.
Aventura has a truly low crime rate, perhaps because there are 83 police officers for the 3 ½ square mile city—90% of the crimes are property crimes though, so lock your doors—car and home—and lock up your bike.
Getting There
Aventura is between Fort Lauderdale-Hollywood International Airport, 10 miles to the South, and Miami International Airport, 15 miles to the North. Fly into whichever is most convenient for you.
It's about a 15-20-minute trip from the Fort Lauderdale airport, and about 30-45 minutes from Miami airport.
Take a cab from Ft. Lauderdale-Hollywood for a fare of around $40.00, with no charge to share. The cab from Miami International will be about $56.00, also with no extra charge to share. There's no flat rate cab fare to Aventura from either airport because it's not the popular destination. That said, all fare estimates are for trips to the Aventura Mall, the most popular destination in Aventura.
There are several van shuttle services from Ft. Lauderdale airport. Compare and book on "Jayride" online. The "Super Shuttle" is the most frequently, and best-reviewed shuttle service with a cost of about $29.00. From Miami International airport the Super Shuttle is about $27.00—again you can compare and book on "Jayride" online.Uber and Lyft can pick you up from either airport, but they can't wait at the curb so you need to call them when you're in the baggage claim area. From Ft. Lauderdale it's about $18.00+, from Miami International it's about $30.00+—of course, both estimates are depending on traffic, if it's slow and go expect to pay more.
Bus Services from the airports. The #1 bus at the Ft. Lauderdale-Hollywood Airport will take you to Aventura. The bus is located at the Car Rental Center.  To reach the Car Rental Center follow the signs that say: "County Bus", and take the shuttle labeled "Rental Car Center". From terminals #2, #3 or #4 it's a short ride—terminal #1 is very near, you can walk just follow the signs. Exit the shuttle, turn right and walk to the end of the building, the route #1 stop is there. The bus will say: "Aventura Mall", it's a $2.00 fare and you'll need exact change. The buses run every 20 minutes from 5 am-11:30 pm weekdays, 6:30 am-9:30 pm weekends and holidays. The bus ride will take over an hour.
I don't advise making the bus, or train/bus trip from Miami International—you'd have to take the #150 bus, then switch at 41st and Collins to the "S" bus. AND…even if the stars align, you're looking at a 2-hour trip for the train to the bus.
Car rentals are available from both airport locations. There's signage inside the airports to help you locate the rental areas. You'll need to jump on the "Car Rental Center" shuttle bus that continuously circles outside the baggage areas at Fort Lauderdale-Hollywood Airport—reread the bus directions above since you access the car rentals in the same way.
At Miami International Airport you take the "MIA Mover" (look for the signs inside the airport directing you to the MIA Mover). The Mover is at the train station located between the Dolphin and Flamingo garages on the 3rd level. The MIA Mover will transport you to the "Rental Car Center" just 4 minutes away.
To rent a car you need to be 21 years of age or older. You'll present your passport, and need a valid driver's license from your home country, as well as a valid credit card (in your name!) for the rental charges. Having an International Driving Permit is helpful but not required. The appropriate insurance coverage is needed, you may already have it or you can purchase it at the time you rent the car. Get a car with a GPS, and ask about the "Toll-By-Plate" system—an automatic system that adds the toll charges to your rental car charges.
Getting Around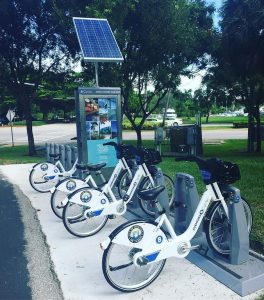 Aventura isn't huge so walking and biking are real options if you're staying close to home.
Aventura "BCycle" is a member-based bike rental that has bikes stationed around the city. Check out the "BCycle" site for rates, and a map of where the bikes are docked. Download the free app and consider getting the card to make rentals faster and easier.
The "Aventura Express" is a free bus with 6 routes and a free app that lets you track the bus in real time.
Taxis, Uber and Lyft all operate in Aventura but you need to call or use your app to get a ride.
If you've rented a car, read the parking signs carefully to make sure you're legally parked. There are lots of free places to park, but if your accommodations don't include parking you'll need to do some research to find overnight parking that you may need to pay for.
Important Numbers
Dial 911 in an emergency!
Tourism Information: 305-466-8900 www.cityofaventura.com
Aventura Branch Library: 305-931-5512 http://www.mdpls.org
Aventura Police dept.: 305-466-8966 www.cityofaventura.com
Aventura Fire Dept.: 786-331-5000 www.cityofaventura.com
Fastcare Urgent Care: 786-923-4000 https://www.myfastcare.com
Aventura Hospital & Med. Center: 305-682-7000 https://aventurahospital.com
Kind Animal Hospital: 786-766-5280 http://www.localvets.com/p/citygrid2/florida-pets-vets-animal-clinic-miami-florida.html
The best reason to study English in Aventura is that you have all the fun of the beach cities and the excitement of the metropolitan areas nearby but you're in a suburban setting. Aventura is a place that allows you to focus on your studies…during the week at least.