Atlanta the ESL Student City Hack
Atlanta, or "Hotlanta" as it's known, is the capital city of Georgia, and it's 'hot' for reasons other than temperature.  Atlanta is racially diverse, and well-educated, with an exciting music and sports legacy.  More importantly, Atlanta is the birthplace of America's civil rights movement.
ATLANTA –THE ESSENTIALS
State:               Georgia
City:                 Atlanta
County:           Fulton, and DeKalb—it's that big!
Zip codes:       30060, 30301-30322, 30324-30334, 30336-30350, 30353, 30363
Area codes:     404, 470, 678, 770
Local population is just under 500,000 people.
Getting There
Hartsfield-Jackson Atlanta International Airport is the world's busiest airport, and it's where you'll fly into.  The airport is just 7 miles south of Atlanta's central business district.  Since the airport can be so daunting, let's walk through the arrivals process.
Your international flight will arrive at Concourse F, after deplaning follow the signs to "Passport Control"—hopefully you got a blue "Declarations" form on the plane before landing, and filled it out (if not you'll be able to get one in the Passport Control area).
The Passport Control agent will stamp the declarations form and your passport.
Next stop is Customs.  The customs and immigration process here requires that you get your bags from the international baggage claim area first.  You'll go through customs with your bags—so no items in there you shouldn't have!  The customs agent will take the stamped, blue declarations form.
Once you've cleared customs you can exit the terminal.
Concourse F is new to the Atlanta airport and is still working out the logistics of moving passengers to the Main Terminal, for now, if you will be taking the MARTA mass transit rail, shared shuttle vans, or renting a car you will take the free "Airport Shuttle Connector" outside the terminal.  The "Airport Shuttle Connector" will take you to the main terminal "Ground Transportation Center", or the "Car Rental Center".
If you want to see more of the airport or find a place to eat inside one of the Concourses, look for signs to the "Plane Train".  The "Plane Train" is the automated people mover connecting all the Concourses to the main terminal.  It stops about every 2 minutes at each of the Concourses, you can jump on or off at any of the stops.
The "Ground Transportation Center" is at the far east side of the main terminal right outside the baggage claim areas for the north and south terminals.  It's color-coded for clarity—Zone 1 is yellow, taxis stop here; Zone 2 is orange, parking lot shuttles stop here; Zone 3 is red, local and regional shuttles (and the International Shuttle Connector for departing international passengers) stop here; Zone 4 is green, hotel shuttles stop here.
Cabs are available just outside the International terminal, no need to shuttle over to the "Ground Transportation Center".  Taxis charge a flat rate of $32.00 + $2.00 for each additional passenger from the airport to midtown Atlanta.
Uber and Lyft can also pick you up right at the International Terminal.  Call or use your app to arrange your ride after you're through customs—cars are not allowed to idle at the curb.  Uber asks that you text the driver the door number you are nearest, and wait at the outer curb.  Lyft wants to meet you at the "International Terminal Arrivals" area.  Both ride services will be about $20.00-$25.00 depending on traffic.
"Atlanta Shuttle" shared van rides are the best reviewed of the shared vans—compare for yourself on "jayride"—it's about $35.00 for one passenger, one-way.  The shared shuttle vans are at the "Ground Transportation Center" at the Main Domestic Terminal in Zones 3 & 4, the red and green zones.
The MARTA (Metropolitan Atlanta Rapid Transit Authority) rail train's red, and gold lines are both accessible right at the "Airport Station" inside the Main Domestic Terminal.  Either train line will take you to the downtown area.  The "5 Points Station" is where you can transfer to access the blue line, known as the "East West Line", or the green line, the "Proctor Creek Line".  A one-way fare is $2.50 with free transfers for 3 hours.
Car rentals are at the "Car Rental Center".  Take the free "Airport Shuttle Connector" from the International terminal directly to the rental center.  You must be 21 years of age or older, have a valid driver's license from your home country, have or buy the appropriate insurance coverage, and you will be asked to present your passport.
Georgia is a state where you will need an International Driving Permit if the language on your license is not English.  You don't need it to rent the car, but if you are pulled over or ticketed for any reason the officer needs to see an International Driving Permit with your information in English.  Furthermore, Georgia car rental laws require that you have possessed your own country's driver's license for at least a year.
Getting Around
Atlanta is big; most people who live there wouldn't dream of relying on public transportation.  BUT…if you're going to be living in midtown, downtown, Buckhead…anywhere along the MARTA lines, you'll easily be able to walk and bike.  The "Atlanta Beltline" hosts free fitness events and charity walk/run races.
Hailing cabs in Atlanta can be a challenge.  Keep the number of a local cab company in your phone, and look outside hotels and hotspots for cabs waiting for fares.
Uber and Lyft both operate in the city—Uber is more popular.  Use your app to arrange rides.
MARTA operates both the rail and bus system in Atlanta.  The rail is, by far, the more reliable and easier to navigate choice.  Fares are $2.50 with free transfers—even between rail and bus.  Download the free app, and get a "Breeze Card" to save money.  Cards are sold in vending machines at all the stations.  The card itself costs $1.00, and you load rides onto it.  Get a "Visitor's Pass" card for the beginning of your trip, it's a great deal!
In the Buckhead area you can get the free "Buc Ride" shuttle which will take you between Lenox Square and Phipps Plaza.:
Mon-Fri from 6:30am – 9:3am and 3:30pm – 7:00pm.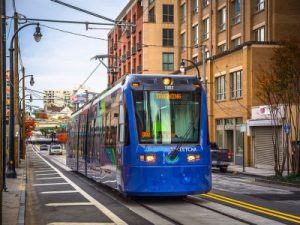 The "Atlanta Streetcar" has 12 stops that loop around downtown Atlanta.  The streetcars run every 10 – 15 minutes, depending on traffic.  The fare is $1.00, use your "Breeze Card".  Download their free app for fare specials and purchases, route maps, and alerts.
Believe it or not, a lot of students buy a car!  If you do, make sure to apply for a residential parking permit so you can park near where you live.  Read the parking signs to make sure you're legally parked, and avoid tickets and tows.
Important Numbers
Dial 911 in an emergency!
Tourism:                                                 404-521-6600     http://www.atlanta.net/
Atlanta Central Library:                       404-730-1700  http://www.afpls.org
Atlanta Police Dept.:                           404-614-6544  http://www.atlantapd.org
Atlanta Fire Dept.:                               404-546-7000  https://www.atlantaga.gov/government/departments/fire
WellStar Atlanta Medical Center:       404-265-4000  https://www.wellstar.org
Ark Animal Hospital:                           404-963-9804  http://www.thearkah.com
Atlanta will charm and surprise you.  It's filled with things to see and do, festivals, street art, and hip-hop, oh my!  Atlanta is a big city/small town that's a great place to learn English, and experience a true slice of Americana.