TALK Atlanta
Very shortly after TALK Atlanta English School opened its doors on Peachtree Street in the heart of Atlanta's Midtown area, Allison Hill joined the TALK family as the Center Director.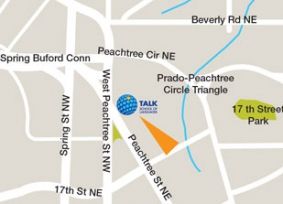 The TALK Atlanta English School's Midtown location is the second largest financial district in Atlanta and home to many of Atlanta's most lively restaurants, cafes, museums, and best-known parks such as Piedmont Park. The location has proved to be a popular reason for students choosing this center, but what makes it a winner for students is that it is, in the words of a former student, "an inspiring and friendly environment: every morning our Director and Student Coordinator and all the teachers welcome us with the most beautiful smiles and kind words!"
The TALK Atlanta Experience
Many students remark on this wonderful atmosphere that exists at TALK Atlanta. A lot of the credit for creating such an environment must go to Allison, her Assistant Director, Ricky Saucedo and Student Services Coordinator, Duana Glenn. Says Allison:

"At TALK Atlanta we have fun EVERY day. We laugh a lot. I would have to say the most fun, every year, is our Halloween celebration. The staff pick a theme and we decorate the school and plan our costumes around that theme. Last year, the school was decorated like Gotham City and all the staff were dressed up as characters from Batman. The students love it and we have so much fun on that day every year."
A Pennsylvania native, Allison was a newcomer to Atlanta when she joined TALK English school, but she rapidly settled into Atlanta, as well as the life and business of running a school. She is proud of the TALK Atlanta's growth from a modest first-day intake of 10 students to a near-capacity recruitment each week.
Apart from the 3 full-time staff members, there are 8 teachers. Says Allison:
"Our teachers are amazing! All of them have years and years of experience, have taught overseas and in the US and are all native speakers. Our teachers truly enjoy what they do and give 100% every day to make sure our students have a fantastic experience at TALK Atlanta. "
TALK Atlanta attracts a very diverse mix of nationalities, from Saudi Arabia to Brazil to Turkey to Colombia to China to Germany and more. The average age of the students is 25-26 years old.
Allison is most proud of the spirit that has been created at the center and she loves watching the students and the staff interact every day, how friendly everyone is, how much everyone genuinely cares for each other. She loves "seeing students participating in fun activities like International Food Day, picnics at Piedmont Park, game days…there are too many to name …"
Allison, Ricky, Duana and TALK Atlanta's amazing teachers are the dedicated core of the Center's success and popularity with students from all over the world!