Memorial Day in the U.S.A.

Memorial Day – always the last Monday in May – falls this year on May the 25th.  What does this American holiday represent?
Memorial Day is thought of as a fun, happy day in that it marks the beginning of the summer in America.  Many Americans celebrate the day as the unofficial beginning of the summer vacation but Memorial Day  is an important Federal Holiday, and is essentially a somber and serious day.  Memorial Day began as a spontaneous commemoration of those 620,000 soldiers who had died in the carnage of the American Civil War.  Today, Americans remember all their fellow countrymen and women who have died in military service for the United States.
Flags fly at half-mast and many visit cemeteries and memorials to honor those who have passed on and especially those who died serving their country. A national moment of remembrance is marked at 3 p.m.
Falling as it does as the weather warms up, people take the opportunity of a long week-end to go on a short vacation or take to parks and natural places, where they picnic, barbeque or partake in all sorts of sporting activities and games with family and friends.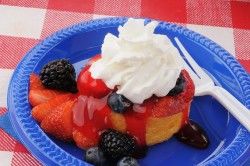 If you're looking to do something outside of the usual Memorial Day activities like picnics, cookouts, backyard barbecue or neighborhood block party, check out website links in your city or region for additional ways to get together with kindred spirits. Explore ways to celebrate both the meaning of the holiday and also to welcome sunny days ahead.  Create a red, white and blue theme for your table decorations and food platters! Make a fruit platter from red, white and blue –colored fruits.  Perhaps you can, before that barbecue, attend a wreath-laying ceremony in your area, or go to the theater, celebrate diversity at food festivals, music concerts.  If you want to leave town for those 3 days, consider camping or hiking in one of America's wonderful national parks near you.
Whatever you choose to do, we wish you a terrific Memorial Day Week End!!!