Why do you Want to Study English in the USA?

We're all uniquely driven – each of us with our own reasons for wanting to study English. Ask yourself: "What's MY reason for learning English?" Let's break down what you should be asking yourself about your motivation, objectives, and expectations for studying English in the USA. And you also need to ask yourself, what are my restrictions – for example, what course does my budget allow? How much time can I take off to learn English?
Knowing why you want to study English helps you make the right choices of school, course and city
1.  Choosing the right course for you – what to ask yourself 
Why am I learning English?  Is it for career and business? University placement? Cultural and social integration in an English-speaking country? To enhance my travel experience? A useful vacation pastime?
In addition, you need to understand how your skill level affects the type of course and the duration that you need to achieve fluency, so ask yourself:
What is my current English skill level: beginner, intermediate or advanced?
Have I had much experience communicating with native speakers of English?
Am I comfortable using slang and everyday English?
Reading, writing, listening & speaking – which skills are my strongest? Which skills do I most want to
improve?
Do my pronunciation and accent make me feel nervous about speaking English in front of others?
Your language goal determines which is the best type of English course for your needs. As you decide on the perfect
course – and school and city – you are starting on a one-of-a-kind experience.
2. How much time can you take off to devote yourself to learning English?
How long can I stay in the United States?
How much time do I want to spend studying English while living in the USA?
How many hours each week do I want to spend in classes?
Do I want to spend time outside of school doing homework?
How much time can I afford to attend and English School?
This last question goes to your budget vs the costs of attending English School in the USA:
3. What does my budget allow?
How much is tuition?
How much does student accommodation cost? Is it included in a package price?
What is the cost of living and eating out where I will study?
What is the average roundtrip airfare to my destination?
What other expenses should I expect?
You also need to ask yourself what are the costs of the TOTAL Study in the USA experience, i.e. the costs of tourist travel that you want to do while studying in the USA.
Do you intend to travel extensively before, during or after your studies?
What do you estimate those costs of such items as accommodation, car rental, airfares to be?
A thorough examination based on these questions will help you take the next steps on your way to realizing your study English in the USA dream.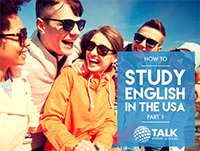 Our e-Guide's checklist can help you sort everything out easily. Download How To Study In The USA now and start planning your journey studying in the USA!