USA International Student Visa

If you have chosen to study English in a foreign country, the chances are you like the idea of travel and experiencing other cultures. Because you are going to be studying in the USA, you will need a visa that is more than a tourist visa.
What Study Programs in the USA require a Student Visa?
The kind of visa an international student needs to obtain depends on the kind of immigration status they already have in the US, and upon the kind of program in which you wish to enroll.
If you already have a valid E or H visa which are employment visas, you can enroll in any course: part-time or full-time at an ESL college in the USA, as long as the courses are incidental to your employment. As a permanent resident (green card holder), you can enroll in any course.
However, if you are coming to the USA specifically to enroll in a full-time English program, you need to apply for an F-1 student visa. An F1 visa is issued to students who are attending an academic program or English Language Program.
F1 visas are by far the most common form of international student visa in the U.S.
The J1 and M1 Visa are also types of student visas – a J1 visa is issued to students who need to obtain practical training that is not available in their home country to complete their academic program.  An M1 visa is issued to a student who is going to attend a non-academic or vocational school.
What is an F-2 Visa?
The spouse and unmarried children under the age of 21 of an F-1 student are eligible for F-2 status. An F-2 Visa allows the holder to stay in the US as long as the primary student remains in legal F1 status.
For the USA study abroad programs, you need to apply for the correct visa type before you travel to the country.   The reason you are coming to the U.S. determines what kind of visa you will receive. If you are coming to the U.S. to study full-time, then you should obtain an F-1 student visa.
*** The visa type and duration will depend on the course you have applied to take at your English School. Make sure you have included time to travel in the country if that is what you want to do, before or after the course. 
You may be required to start the course on the first day of entry in the country.  You then need to find out how many days after you complete the course you can stay in the country on vacation. Or you can just plan short vacation weekend trips during your study period.
To determine if you are able to study on a different visa, please view this chart: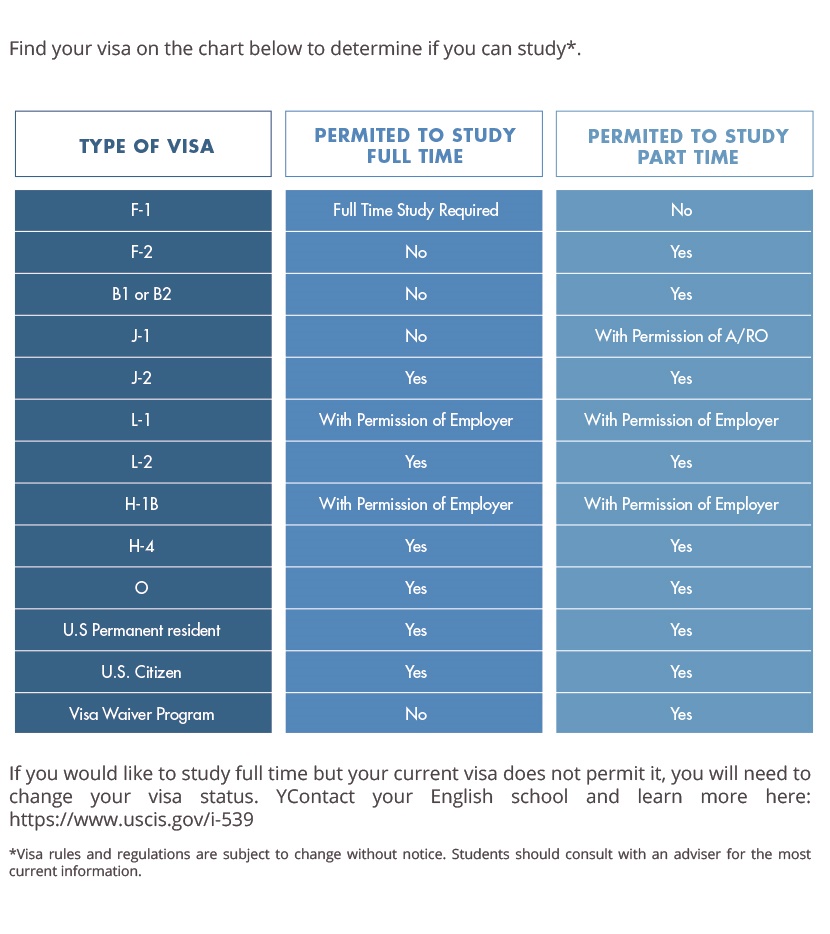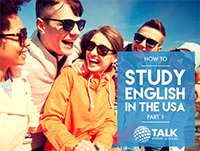 Download our e-Guide How To Study English in the USA and learn more about study programs visa requirements for studying in the USA!