How to Record your Study in the USA Travel Adventure

Your study in the USA time is the stuff of lifetime memories, and in between all the studying, exploring, fun and friending, find time to record your travel adventure. Write your travel stories on your blog or in journals in real-time, post your adventures and activities on Instagram or Facebook, take artsy photographs of your city or keep a journal. Whatever way you choose to you do it, make sure to record your study in the USA experience.  Your family and friends back home will treasure these memories as much as you do and later in life, they will trigger memories and feelings associated with this important stage of your life.
Ways to Record your Study Abroad Experiences
Keep a journal. If you like the look and feel of the written word on paper, then don't forget to carry your notebook and pen with you wherever you go or write up your thoughts and observations on your phone notes (for which no wi-fi is necessary) and take pictures with your phone camera.
Create a blog. This way, everyone can read about your adventures as soon as you publish them. Platforms like WordPress are very easy to learn and free, as well.
Start a vlog. That is a video a blog and you can use your video function on your phone camera and use free programs like iMovie or Windows Movie Maker to edit the footage down to something short, fun and entirely your own! Then post them on You Tube or Vimeo.
Create a scrapbook. Collect all the stuff of memories – photos, movie tickets, menus, maps etc. and put together a scrapbook in your spare moments in your dormitory or room.
Post photos and videos on Instagram and Facebook. You will attract comments and questions from your followers back home and those who are new found friends in your school.
Keep a sketchbook. If you are artistically inclined, it is so much fun to capture the world around you in doodles, and painted works. Drawing enhances those powers of observation and is a fantastic creative outlet.
These are just some of many ways you can be recording your travel adventure.  There are lots of ways to tell a story of your travels, so be creative!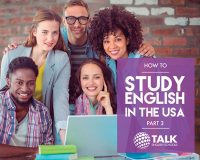 Download our e-Guides series.  It's an A to Z on How to Study English in the USA, containing all you need to know about the study abroad experience.