How to Choose your Location to Study English in the USA

You've made the decision to study English in the USA and you have a pretty good idea of the course you'll be taking.  When weighing up your decision about the best city to study in the USA for you, you need to think through what city which suits your needs, budget, expectations, and desires best.  Most of us have a city in mind when they imagine the USA.  This dream city could be based on movies, music, stories and experiences your friends have shared with you.
Choosing your location to Study in the USA
You will find an English school in pretty much every big or medium-sized city, as well as some smaller town. Somehow you have to combine your dreams and reality to select a city that suits you.  For example, you may not be able to afford New York, but if you want to match the energy, culture, climate, architecture, and history of New York, Boston is a great option and won't cost as much to live there.  Ask yourself what kind of experience you want of a place, and then research a few of the cities which come to mind.  Here are some ideas to keep in minds when researching whether a city is right for you.
What is the climate of the city and which is the best season to be there? You may love the idea of crisp Fall days of the north-eastern USA; others just want to experience those tropical Florida nights!
Consider that in a big city you will be amongst a culturally diverse population, while, in smaller communities, there tends to be a more homogenous group of people who share the same values and traditions. However, like small communities everywhere, folks may be more welcoming to foreigners and visitors and eager to invite you into their lives.
Does the city of your dreams promise plenty of entertainment, big concert venues, culture, history, or would you rather live in a smaller city with an emphasis on community activities and local club and group involvement?
Ask yourself what is the population of the city or town you will be living in? Are you used to living in a big city, and if not, are you prepared to experience this?
Do you like the idea of being one of many students from all over the world?  If so, being close to, or even part of a university campus might steer you in the direction of a city like Boston, which is the ultimate university city.
What are the accommodation options in the cities that interest you? Do you want to live independently in an apartment, or with a host family or at a student residence?  These decisions also need to be based on proximity to your English School and other amenities, and public transportation services.
This leads to the vital question of knowing the cost of living in each of the cities where schools are located (housing, travel and transportation, food, entertainment.)
Is the city easily accessible to natural attractions such as beaches or mountains, and how important is this to you?
What kinds of cuisine are readily available there? You may be keen to try all sorts of international dishes. You are more likely to find these in the bigger cities.
What public transportation is there, how costly is it, does it run day and night?
Is it important that your ideal study abroad city is easily accessible to your home country in terms of fares and flights? Smaller cities in provincial or rural places will have fewer options for direct flights homes or to other big cities.
What is the cost-of-living in the cities which interest you? Compare the cities that are on offer.
While you research possible cities for you, check the English schools located there. (What goes into the selection of an English school is a larger subject, which we come to next ….) But, in terms of your lifestyle and ease of living, you need to get a sense of whether schools city offers, for example:
Is the school …
close to public transport
close to shops and amenities
near attractive buildings and open spaces
parking-friendly
in a safe neighborhood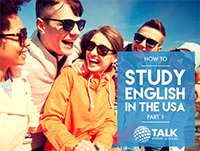 It makes a lot of sense to do your research about these cities and assess which one best suits your needs. Download our How to Study English in the USA e-Guide to find out how!