Choose your Destination City in the USA

When deciding on your destination city to study English in the USA, you need to ask yourself: WHAT STUDY ABROAD EXPERIENCE DO I WANT?
How to Decide on your Destination City
Once you have decided which English course suits your needs best, your next step is to review your destination options.  Most big cities in the USA have one or a few English language schools. Your choice of English language course that best fits your needs is your most important decision. The choice of city is your next big decision.  As you choose your destination city,  remember that your study abroad experience is also about what places, lifestyles, living situations and even weather suit your personality. It is more than your achievements in the classroom.
Is it better to study in a big city or a mid-sized town? This depends on the type of person you are and the amount of money you have available. What to consider when you choose your destination city …
Cultural and Multicultural Immersion
Learning English in the USA means not only getting an education in a second language, but also a multicultural education!  America is undergoing a huge makeover and waves of immigration have changed the ethnic make-up of cities both large and small.  In addition to the multicultural aspect of the big cities is the attraction of an abundance of fantastic cultural institutions such as museums, concerts, galleries and major sporting events.
Big cities such as Boston, San Francisco and Chicago and even mid-sized cities – Miami, Atlanta – and some small towns offer your opportunities to interact with people from all over the world. The multicultural aspect of America cities can also ward off homesickness as there is a good chance you will meet people from your home country.
Lifestyle Factors
Having said this, each city has its own unique features. You may choose to be closer to nature than a big city can provide.  In the smaller towns of Miami and Fort Lauderdale in South Florida, nature is a few miles away from wherever you are, as the urban areas sandwich themselves between the Atlantic Ocean and the Everglades National Park.  Atlanta is a large city but feels local and comfortable because of the friendliness of its residents.
Weather
Weather and climate also come into the equation.  You may want to live in the city that has 4 seasons and if so, Boston is a sure thing!  Or you may prefer sunshine and beaches – that's got South Florida written all over it.  Atlanta has the heat, but winters are colder than those in Florida, so it is a southern city with distinct seasons, though not as extreme as Boston.  And San Francisco's weather is surprisingly temperate and mild.
Budget
This is a major factor affecting your decision as to what city to choose to attend English school in. One of the many ways in which our e-Guide "How to Study English in the USA" helps is that it provides a cost-of-living comparison between the cities in which our schools are located.   Some cities are more expensive than others, but what they offer in terms of other desirables, such as culture or proximity to great attractions or areas, makes it worth the cost.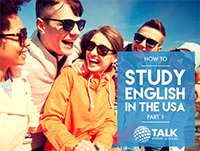 Download our e-Guides How To Study English In The USA and learn what goes in choosing your study abroad city in more detail, including your expectations, needs and any limiting factors and how this impacts your choice of the perfect destination city for you.