How to Select a Bank While Studying Abroad

How to find the best bank for your needs in your host city when you are an international student? If you are planning on staying for a long period of study, it will pay you to open a local bank account. The best banks for students are what you should be investigating.  By that we mean for regular students and international students.  These are the questions you need to ask of yourself and of your local banks.
How to choose the best bank for you
How convenient is the bank's ATM locations to your residence or school campus? (This stops you withdrawing cash from other bank ATM's and incurring fees as a non-account holder)
Are there withdrawal fees from bank's ATMs?
Are there monthly or minimum balance fees?
Can you use a debit card over an ATM card? (You can only withdraw cash with ATM cards and not make any purchases).
Does this bank offer mobile banking and text message alerts that allow you to access you balance immediately and know if your funds are low?
Does this bank provide online banking and bill-paying services?
Can your parents access and wire to your account money when you need it?
FOR INTERNATIONAL STUDENTS … some  banks, such as Bank of America – which has branches throughout the USA – is that they offer credit cards without having a Social Security Number (SSN). This helps you start building credit history the moment you land in US instead of waiting to get a job/internship.
Other banks offer international students a free checking account with only a passport, I-20, college ID and proof of address.
You can of course open a checking account with 2 of the best banks for students and benefit from the different services and perks they offer.
Always make sure you personally visit all banks that are close to your school and have all your questions in writing so that you get a thorough idea of the various offers and conditions on offer before making a decision about the best bank for you.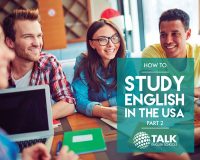 Check other good tips for saving and keeping your money safe with our e-Guides series. Download here!