TALK Student Testimonial: what Cem Asik loved about TALK Boston

Cem Asik studied General English at TALK English Schools Boston, lived a full immersion in American culture and returned to Turkey with some good slang to teach his friends! See his testimonial below: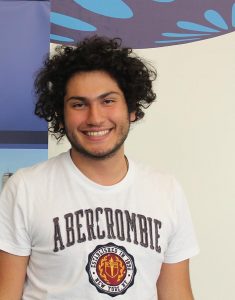 How did you hear about TALK?
My Turkish teacher told me about the school.
What courses did you take at TALK? What are your favorite things about the courses?
I took General English course. In my opinion, all of the teachers and staff are so warm, helpful and talkative.
If your friends asked you about TALK, what 3 things would you say to them?
This school is like a family, it's wonderful and a great American experience.
What is your favorite American expression, idiom or slang you've learned while in the US?
I think my favorite expression is "get out" 🙂 And also "what's the word" and "jeet" (did you eat?).
What' your favorite part of the city? What was your favorite activity you did while studying at TALK?
My favorite activities are the ones in the school because so many people attend these events and they're always so funny – and, of course, graduation.
Would you recommend TALK to your friends or family? Why?
Absolutely! I will recommend to everyone because anyone who wants to learn English and live the American culture should come to TALK.