TALK Student testimonial: Gina Mayorga shares her experience at TALK Miami Beach

Gina Mayoga came from Colombia to the USA to improve her English skills at TALK English Schools Miami Beach and had an amazing experience! Check out what she has to say about her time studying with us: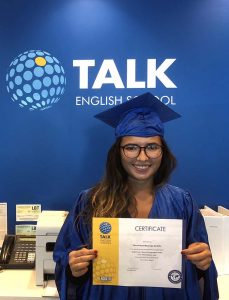 How did you hear about TALK?
I have a friend who studies at TALK Aventura, he told me about the school and the facilities.
What courses did you take at TALK? What are your favorite things about the courses?
I took beginners and intermediate level. My favorite thing is the methodology because in all the courses we practice and improve.
If your friends asked you about TALK, what 3 things would you say to them?
Location (Miami Beach), methodology (book, activities, practice speaking, listening and grammar everyday), teachers (all teachers are very good,the way to explain is excellent).
What is your favorite American expression, idiom or slang you've learned while in the US?
"It's up to you", "give me a ring", "hang out".
What' your favorite part of the city? What was your favorite activity you did while studying at TALK?
Downtown, the Bay… My favorite activity was day at the beach and the visit to the Atlantis University.
Would you recommend TALK to your friends or family? Why?
Of course, because I could improve my English, I met people and all the workers are very nice and they are always willing to help.