Music helps your English Learning

What's the link between music and English vocabulary acquisition? There are many ways that you can learn English as a second language, from classroom settings, to ESL games, to watching English language television and movies.  Songs, too, can help you to learn the language. Like poetry and literature, songs use words in creative and interesting ways, so while you can listen to songs for their lyrics just to learn new words, you can also extend you understanding of how words can be used and combined to create new meanings. Music from the dawn of time up until today use words in imaginative and new ways to convey meanings and messages.
How Music Helps Your Learn English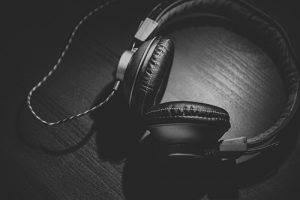 Music helps you with your English skills in various ways:
You pick up everyday language and colloquialisms. Song lyrics contain useful vocabulary, well used as well as current phrases and expressions.
You familiarize yourself with way the language sounds. You can improve your pronunciation by listening to song lyrics.
You can learn you to make your communication more interesting by listening to how songs use figurative language – imagery, metaphors, alliteration, similes – in abundance. Figurative language refers to words, and groups of words, that exaggerate or transform the accepted meanings of some or each of the words.
"Lucy in the Sky with Diamonds" and many other Beatles songs use very vivid imagery. Imagery is one of the main – if not the main – vehicle used by poets and lyricists (song-writers) to convey meanings, feelings and experiences to their readers and listeners. Imagery is what poems are about, and this applied to songs, which are really poetry set to music. Many would state that the most beautiful way to describe and convey feelings  is to use imagery.
Similes are created all the time, and many similes appear in song lyrics.
Check this line from the song 'Skyscraper' by Demi Lovato: "Like I'm made of glass, like I'm made of paper"
Or this from 'Love You Like A Love Song' – Selena Gomez: "I-I love you like a love song, baby"
From 'Firework' – Katy Perry: "Do you ever feel like a plastic bag, drifting through the wind…"
And then there is 'Battlefield' – Jordin Sparks, with this line: "Why does love always feel like a battlefield, a battlefield…"
You learn about the culture of English-speaking peoples when you become familiar with popular songs and artists.
Improve your English by listening to music – the cool thing about this is that it's such an enjoyable way to learn English plus there are so many places you can listen to music, in your car, while you're running errands, exercising, doing tasks around the home.  Test your comprehension and pronunciation by singing along!