TALK's TOEFL® iBT Test Preparation gets you going!

Another year has passed! Once more you are reevaluating your goals and targets. The time has come to go one step further – there's no reason to wait any longer! If you are an international student who plans to continue your studies at an American university, one of the major steps is to take the TOEFL® iBT test. And you need to be well prepared for that.
The TOEFL® iBT (Test of English as a Foreign Language) evaluates your ability to use and understand English in an academic setting. TOEFL® iBT is the most widely accepted English proficiency test in the USA and is recognized by most universities and colleges in the USA.
According to the ETS (Educational Testing Service), more than 35 million people have taken TOEFL®, which has evolved with technology and although it started as a paper-based test, in 1998 it shifted to computer-based and since 2005 is a internet-based test, the TOEFL® iBT (source).
TALK English Schools offers a test preparation course so you can get prepared and develop confidence for TOEFL® iBT. The course is offered at all seven TALK schools: Atlanta, Aventura, Boston, Fort Lauderdale, Miami, Miami Beach, and San Francisco.
Key Points
Year-round*;
Available full time (18 hours, Monday to Friday**) or part time (16 hours, Monday to Thursday);
Students may begin any Monday (Tuesday if Monday is a holiday) and end any Friday;
Minimum 2 weeks.
*course not always available
** classes end at 11am on Friday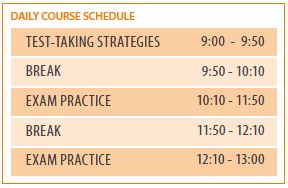 Course Objective
This course is designed to provide students with the skills, strategies, practice and confidence needed to maximize their score on the TOEFL® iBT test. Students will be provided with tips on reading, writing, speaking, and listening and will receive guidance developing a study plan and learning time management and improving note-taking skills necessary for success in an academic environment.
Admission Requirements
Students must have a low-advanced or higher level of English.
Study Environment
Study sessions and practices are conducted by experienced instructors utilizing the latest materials and technology. You will receive consistent feedback from your instructors about practice exam performance, course assignments and skills-improvement. Also, you will benefit from online practice exams and TOEFL® iBT content review.
Now is the time to move forward – don't let another year go by! A bight future awaits you 😊
Learn more about our TOEFL® iBT test preparation course and get your free quote now.