Prepare your coats: TALK's Winter activities in Boston that you can't miss!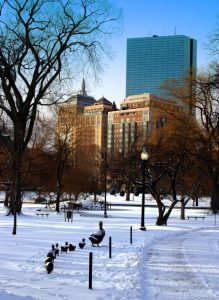 If you are an international student who chose to learn English in Boston during the Winter, prepare your best coats to enjoy the incredible attractions that the city and its surroundings have to offer. TALK English Schools Boston has prepared an extensive calendar of activities to its students which includes visits to museums, ice skating and weekend trips.
These are great opportunities to practice your English, soak up the American culture and get to know your TALK colleagues and teachers more!
Check out some of the activities planned for the period from January to March:
Fun on the ice
During the Winter, Boston Common's lake Frog Pond becomes a ice skating rink and one of Boston's most favorite programs. Another option is City Hall outdoor ice skating rink, which offers group discounts and lessons for first-time skaters.
Have you ever skied? Get ready to show off your skills in the snow! TALK Boston organizes Ski Trips, including an exciting overnight trip!
Culture, art and sightseeing
Boston has an active cultural scene and important museums such as the beautiful Museum of Fine Arts – the fifth largest museum in the United States, which admission is free every Wednesday after 4pm. The Institute of Contemporary Art welcomes the public every Thursday after 4pm, free. Join your fellow TALK colleagues to get to know these two essential landmarks, as well as enjoy a free tour of the Boston Public Library. Activities also include visits to Boston's famous and historical sites, such as Quincy Market and Faneuil Hall, located in 18th and 19th centuries buildings, respectively, where you can stroll around, eat and shop.
Prestigious universities
In Boston's surrounding area, there are two of the most important universities in the world. TALK offers a tour of Harvard Square and MIT, which will be great inspirations for the next steps of your career after reaching a certain level of English language proficiency. You will know what life is like on a typical American university campus. By the way, don't forget to consult us about our University Tour Package and our university placement partner, Unistudy.
Weekend getaways
As if Boston did not have enough attractions to entertain you while on your time off, TALK still organizes weekend trips to nearby cities like New York (4 hours away from Boston), Washington DC (7 hours away) and Portland, Maine (2 hours away). Take some time to know more of the United States and absorb all information you can get, as well as enjoy different atmospheres – and practice your English listening to different accents and slang. Among the weekend getaways is the Winter Festival in Montreal, Canada – our next door neighbors!
Other activities
In addition to the outdoor activities in Boston, TALK offers several moments of bonding among its students from different parts of the world. The traditional International Food Day Potluck takes place in March and promotes a delicious exchange of cultural references through food – is there a better way? It's your opportunity to try foreign cuisines and strengthen your ties with your TALK Boston colleagues!
Keep an eye on TALK's calendar of activities. Nicole Barone-Williams, TALK Boston school Director, and the student ambassador are available to answer any questions. And if you are not enrolled yet, there's still time! Get your free quote now and prepare to enjoy all the amazing things that Boston has to offer during your time learning English in the USA!
📷 Check out more photos of TALK Boston students having fun on our Instagram.