Honoring Dr. King at MLK50 Events in Atlanta
2018 marks the 50th anniversary of one of the most tragic, historic and important events in American history: the assassination of Rev. Dr. Martin Luther King, Jr with MLK50, a "Remembrance Week",  which was held in Atlanta, Georgia. This was the truly remarkable and event-filled commemoration of Dr. King and his legacy.  MLK50 ran from Wednesday, April 4, the anniversary of King's death, through Monday, April 9, the anniversary of his funeral procession.
TALK Atlanta's participation in MLK50 Celebrations
On the final day of Remembrance Week, April 9, after the multi-faith service, a 'March for Humanity' traced the iconic funeral procession. TALK Atlanta students participated in the walk and returned to school the next day to discuss the ideas and challenges surrounding Dr. King's involvement in the civil rights movement.
The week's events included photographic exhibitions, a documentary showing of "The Last Days of King," which features family and close associates of MLK talking about King's life and death, tours of the birthplace of Dr. King on Auburn Avenue, as well as open hours at the Historic Ebenezer Baptist Church, and Freedom Hall.
Talks focused on addressing the "Triple Evils" Dr. King emphasized: poverty, racism, and war.
The Martin Luther King, Jr. Nonviolent Peace Prize was awarded for commitment to nonviolence as a way of life through which social justice, human rights, and civil liberties are attained for all. This year the prize went to 2 lawyers:  Benjamin Ferencz, for his work prosecuting German Nazi leaders at Nuremburg and Bryan Stevenson, for his work to make mandatory life-without-parole sentences for all children 17 or younger unconstitutional.
The "King Centennials Speak" event featured the Centennial Generation of "King Children" who hosted an event highlighting youth all over the world doing innovative and extraordinary work for humanity.
The conveners of MLK50 also asked the community to commemorate Dr. MLK Jr's mission by getting involved in meaningful actions and suggested these two ways to do so:
Post a Mountaintop Moment
Mountaintop is the theme from one of his most notable (and last) speeches. Around the world, people will reflect on their own "Mountaintop Moment" –  and depict the future as they see it from their "mountaintops" through visual art, song, digital media, spoken word and more.
 50 Acts of Service or Kindness Campaign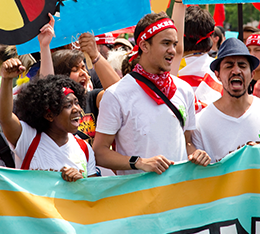 This is an effort to get communities involved in keeping Dr. MLK Jr's dream alive.  Participants,  individually or in conjunction with major civic organizations, were asked to commit to completing fifty acts of kindness or service during the time period that has a positive impact on their community.
TALK Atlanta showed their commitment to the values that Dr. King espoused.  The students issued this statement about their decision to participate in the week that honored the legacy of Dr. King:
"TALK Atlanta stands in unity at the King Center for Dr. Martin Luther King Jr's 50th anniversary celebration. We're ready to march for unity!!"