Boston the ESL Student City Hack
Massachusetts was one of the original colonies that united to form the US.  When you're in Boston you can see and feel the history!  Boston was a central player in the American Revolution—I'm sure you've heard of the 'Boston Tea Party' or 'Paul Revere's midnight ride'.
Boston – The Essentials
State:               Massachusetts
City:                 Boston—the capital!
County:                       Suffolk
Zip Codes:       02108-02137, 02163, 02196, 02199, 02201, 02203-02206, 02210-02212, 02215, 02217, 02222, 02126, 02228, 02241,02266, 02283-02284, 02293, 02295, 02297-02298, 02467
Area Codes:         617, 857
Local population is about 673,000+ people.
There are 32+ crimes per 1,000 people in Boston, with most being property crimes.  The city center is the safest.
Getting There
Boston Logan International Airport is the nearest airport; you'll arrive at terminal E, and exit customs on level 1.  The airport is located in East Boston and surrounded by Boston Harbor on 3 sides.  You'll be happy to hear that Logan Airport has, in the past, won the title of "Easiest airport to get to" because if you can get to it easily, you can get from it easily!
Taxis charge flat rates to a variety of towns near Boston ranging from $35.00-$70.00.  The fare to common downtown locations is $18.00-$30.00 with the average cost being $22.00+.  Taxis are found at the curb outside all arrivals terminals.  Exit through the east door, E102, the cabs are on the left.  The 5-mile ride will take about 20 minutes depending on traffic.
The "Go Boston Shuttle" is the most popular and best reviewed of the shared van shuttles, but compare and book on "shuttlewizard".  They can be found in the red, "Shared Vans" sign at the curb of the traffic island outside baggage claim on level 1.  You need to cross the street to reach the traffic island, look all the way to your right to see the "Shared Vans" sign.  It'll cost about $25.00 to downtown Boston and there are no extra charges for the additional passengers in your party.
Uber and Lyft operate at the Logan Airport.  You need to use your app to arrange your ride.  Logan Airport has a new dedicated pick-up area called the "TNC pick-up area" (Transportation Network Companies) for app-based rides.  You exit level 1 outside baggage claim through the same door you use for cabs, E102, then cross the street to find your driver waiting in the pick-up area.  The ride will be $18.00-$30.00 to downtown depending on traffic.
The Boston "Silver Line" is part of the MBTA, or Massachusetts Bay Transportation Authority (everyone calls it the "T").  The "Silver Line" is a free bus that will take you to Downtown Boston.  You can find the bus at the curb outside level 1 baggage claim between doors E105 and E106.  If you take the bus and get off at "Seaport District" you're close to Chinatown, the Financial District, and the Leather District.  If you're staying there and have a friend come get you that's 1 ride and 0$ to get downtown!  If you need to make connections to the subway, or another bus (also parts of the "T") get off at "South Station".  You can transfer to the Red Line subway train for free when you're travelling from the airport…and from that line to others for free as well.  MAN, do they ever deserve that "easiest airport…" award!
The Logan "On Airport Shuttle Bus" is free.  The buses run every 5-6 minutes and can be found curbside under the blue and white "Shuttle Bus" sign outside level 1, between doors E103 and E104.  The "On Airport Shuttle Bus" will connect you to the "T's" Blue Line subway train.  If this is the way you're getting to town, you want to get a "Charlie Card", or "Charlie Ticket" from one of the MBTA ticket machines inside the airport.  A single fare for the subway is $2.25, the bus is $1.70 both on the "Charlie Card".  If you're purchasing a single use "Charlie Ticket" it's $2.75 for the subway, and $2.00 for the bus.  The "Charlie Card" is reloadable, and the best option if you be taking mass transit often while you're in town, you pay $1.00 for the card itself.
Car rentals can be found at the "Car Rental Center"—take the free "Airport Shuttle" number 33 or number 55, outside Terminal E level 1, baggage area.  Look for the "Airport Shuttle" sign between doors E103 and E104.  You must be 25 years of age or older to rent a car in Boston, have a valid license from your home country, and you'll need to have or purchase the appropriate insurance coverage.  In Boston, you also need to have an "International Driver's Permit" if the language on your license isn't English, and you need to have a copy of your valid I-94 showing the date of admission to the US to present to any officer that may pull you over.
NOTE!  Massachusetts only recognizes licenses from countries identified in Appendix C of the "Massachusetts Driver's Manual".  Check to make certain your home country is listed.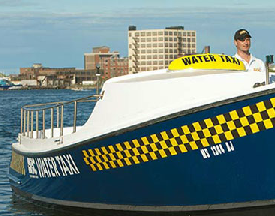 You have a novel option to get from Logan Airport to downtown Boston, by water!  You can take a water shuttle or water taxi, year-round.  Take the "Massport Courtesy Shuttle Bus", route 66, that serves all the terminals to get to the Logan Airport Ferry Terminal.  The "Massport Courtesy Shuttle Bus" is found at the same place you'll find all the free Airport shuttles.  The "T" Harbor Express is the ferry you'll take.  Pay your one-way fare with the "mTicket" app on your phone, cash on board (add $3.00 for this option), or buy a ticket from the MBTA ticket machine inside the airport.  Make sure you check the ferry schedule though, you don't want to have to wait too long.
Getting Around
Boston has a reputation for aggressive drivers and a super confusing street layout.  BUT…the city has amazing public transportation and is walker and bike rider friendly.
The "New Balance Hubway" is a bike sharing system that has 60 kiosks around town.  It operates Spring, Summer, and Fall.  You pay $5.00 for a 24-hour membership or $12.00 for a 3-day membership.  Rides longer than 30 minutes may incur additional charges.
Have someone else do the pedaling!  Take a pedi-cab—"Boston Pedicab" (617-266-2005)—it's a fun way to sightsee.
You can hail cabs at popular tourist destinations but keep a cab number on your phone for those times when you can't find a lift.
Uber and Lyft both operate in town, the cost is on a par with cabs.  Use your app for either.
MBTA, the "T", runs the subways, buses, commuter rail, and ferries.  You can buy and/or refill your "Charlie Card" at most MBTA stations.  Download the transportation apps for schedules, route maps, and real-time tracking.
Important Numbers
Dial 911 in an emergency!
Greater Boston Convention & Visitors Center
617-536-4100
https://www.bostonusa.com

Boston Library System:

New Chinatown Branch is close to TALK

  617-536-5400
http://www.bpl.org

Boston Police Dept.:   District C-6
617-343-4730
http://bpdnews.com/districts/

Boston Fire Dept.:       Engine 10
617-343-2810
https://www.boston.gov/departments/fire-operations
CareWell Urgent Care:
617-714-4534
http://www.carewellurgentcare.com
Tufts Medical Care University Hospital:
617-636-5000

https://www.tuftsmedicalcenter.org

South Boston Animal Hospital:
617-269-0610
https://www.southbostonanimalhospital.com
Boston has more than 50 universities close to downtown—it IS college town!  3 of the top schools in the US call Boston home.  Learning English in Boston gives you access to an intellectual culture that's unsurpassed.