Spreading the Love on Valentine's Day
Valentine's Day, which falls on February 14, is a very big deal in the USA. 19.7 billion dollars was spent by Americans on Valentine's Day in 2016: of this amount 4.5 billion dollars spent on jewelry;  4.4. billion dollars was spent on an evening out;  1.98 billion dollars was spent on flowers: 1.76 billion dollars on candy … the average 'spend' per person for Valentine's day 2016 was $147.  Young people 18 to 35 tended to spend the most money.
So, how important is Valentine's Day to our TALK Atlanta students?  TALK Atlanta created a charming Valentine's Day tradition last year.  On a "Spread the Love" wall, students were invited to post quotes about the meaning of love.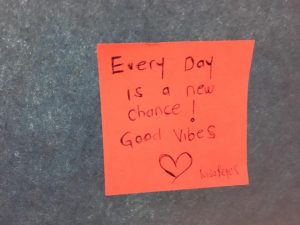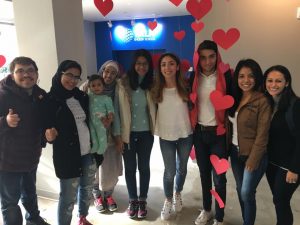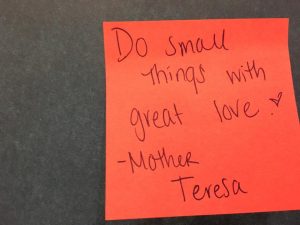 This year, students will again post love quotes on the wall.
Valentine's Day is Celebrated in Different Ways on Different Days around the World
We talked to students from the TALK Atlanta school about what Valentine's Day means to them, and how this day is celebrated in their native countries.
Ploynapas Pawachot from Thailand:
"I think for me, Valentine's Day is better than Thailand because people don't get overly emotional. In Thailand, when you are a couple, every couple is going to bring roses to each other, some other bring chocolates. All restaurants make everything special. In school, flowers or bear for some girl, some get a lot. It's a popular holiday. If you have a crush, you will tell them on Valentine's Day."
Adds Ploynapas: "Now, as an adult, I can see that Valentine's Day isn't that important because you can show every day how to love each other."
Luciana Aoyama from Brazil:
"In Brazil, Valentine's Day is June 12th.  We give chocolates or flowers or perfume to each other, but usually guys always forget about Valentine's Day when you are in a relationship. I like to remind my husband, because I always remember to get him something!"
Eriko Matsunaga describes how Valentine's Day comes twice in Japan!
"In Japan only the girls give chocolates to guys on Valentine's Day. It's very popular to give homemade chocolates or sweets. It's a very popular holiday, but better when you have a boyfriend. Even if you don't have a boyfriend, girls give sweets to guy friends and coworkers. Because then on March 14th, we have White Day where only guys give girls chocolates and sweets, not just girlfriends, but girls you work with, too.
I don't like Valentine's Day. I have never experienced Valentine's Day in America, but I hear lingerie is a popular gift to give."
Juanita Hurtado from Colombia:
"In Colombia, Valentine's Day is in September. Sometimes we pull names and for the name we each pull, we get that person a present, even if it's someone we don't like or someone we secretly like. We give chocolates and go to dinner. But there is a saying in Colombia 'Don't give shoes to guys on Valentine's Day because then they'll leave!'"
Students also came up with the most romantic places to go in Atlanta for that Valentine's Day date.
Popular places* in Atlanta to take a date for Valentine's Day
Sun Dial Restaurant and/or take a ride on the Skyview Ferries Wheel
Skyline Park at Ponce City Market: Skyline Park is a mini amusement park on the roof of Ponce City Market-it's fun for all ages and includes a bar for cocktails overlooking Atlanta. Ponce City Market is also a "new," local hotspot: tons of different types of restaurants from all over the world!
Park Tavern restaurant at Piedmont Park
Sips Under the Sea at the Georgia Aquarium: visitors get to sip cocktails while viewing the sea creatures at night
Atlanta Botanical Gardens: live music, dancing, cocktails, and dessert amid beautiful flora

Canoe restaurant: serves up unique foods like peppercorn kangaroo and slow roasted rabbit! Its location is one of the best, overlooking the river.

Café Intermezzo: for dessert and/or coffee date night- there are over 20 different cakes to choose from and the atmosphere is romantic and cozy with candles on every table
Dad's Garage: To have a good laugh whether it be with a significant other, friends, or alone, this local comedy club usually does an improv show for VD
*Many restaurants around the city will also have pre-fixed specialty meals (usually 3-5 courses) that are only served on Valentine's Day.