New TALK English Schools – Atlanta
TALK English Schools is pleased to announce the opening of our new Atlanta School. The new center opened earlier in December 2011 and is located in the heart of Atlanta's Midtown Arts District among the chic cafes, restaurants and boutiques.
TALK English Schools are ACCET accredited and have a reputation for high academic standards while maintaining unusually low pricing.
More about TALK Language Center in Atlanta
Massey Pakdaman, our Atlanta Center director, says, "Join us for a fresh beginning in our beautiful new school. Here you will find we use the latest technology in ESL teaching methodology and, more importantly, friendly staff. We will guide you step-by-step through and pave the way for your education. Come and see us for more information."
The TALK English Schools – Atlanta has a MARTA (Metropolitan Atlanta Rapid Transit Authority) bus stop directly in front of it and is located within blocks of the Arts Center Station. The school interiors are custom-designed with large group classrooms and a variety of special purpose rooms with natural lighting. Students will enjoy free Wi-Fi and multimedia access and the relaxed student lounge area.
TALK Atlanta has a full course offering including general and academic English classes, group and private classes, TOEFL and IELTS exam prep, and foreign language courses.
TALK is authorized by the federal government to enroll non-immigrant students. Those interested in studying at TALK English Schools – Atlanta should contact the center's Academic Director, Massey Pakdaman, at (404) 249-9466 or atlanta@talk.edu. For more information on TALK English Schools, please visit talk.edu.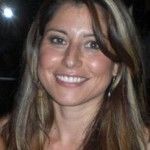 Romina Raffo is our Marketing Coordinator.   Romina loves painting, dancing, and decorating her new apartment.  She also loves anything with a Parisian theme and dreams of seeing the Eiffel Tower someday.  She can be reached at marketing@talk.edu.