Cultural Adaptation
When it comes to studying abroad in a new country, there are many things that any TALK student needs to have in mind when they prepare themselves for this exciting and thrilling adventure. At the beginning of the study/ travel period, the international student may find it very hard to adapt to the new culture. This is completely normal, cultural adaptation is a process which does not happen overnight. Here are some cultural adaption tips for international students.  These guidelines aim to make the experiences of living in, and adapting to, a new country, somewhat easier.
Before Leaving Home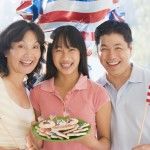 Before you even leave your home country, there are some things you can do to prepare yourself for the new culture, including:
Learning as much as possible as you can about the host country. Don't forget to learn about and understand the 'unspoken rules' that underpin the cultural values of the host country.
Try to understand and learn about the mindset of the general population, and gain an insight into all the realities, including the uncertainties, that they live with each and every day. This may include political instability and tensions, or economic hardship.
Learn the basics of the language of your host country as best as possible, so that you can be understood and that native speakers can help you improve your communication while you are living in their country.
After your Arrival
Have respect for those around you. Try not to say or do anything that may be offensive.
Listen to those around you, and observe the way they talk, how they act, and some of their mannerisms.
Be flexible with your judgements about those aroundyou. Know that it will take time to learn about this new culture and the way things are done.
Lower the expectations that you have from your host country and your new culture, or make them more realistic.
Take time to be on your own, avoid going wholesale into trying to integrate and be at home with your new culture.  If you do this, you may start to feel a backlash in which you are overwhelmed and out of your comfort zone. Let your mind process what you have learnt so far and then slowly immerse yourself in the culture again.
Use resources such as books from the local library to continue to learn about your new culture.
Strive to accept and acquire cultural insight, but don't reject your own culture in the process.
Have tolerance for yourself and those around you.
If you feel that you are struggling to adapt to a new culture, it is important to seek professional help. Your local school or college will have a student advisor who will direct you to the appropriate person who can help.