Professional Development with TALK's Business Course

In today's ever increasingly competitive world it is important to make yourself stand out! One way to do that is to demonstrate an aptitude for learning and acquiring new skills. TALK offers a great opportunity to do just that with our Business Course for Professional Development which starts in September & October 2020!
This course has several business modules that meet both national and international curriculum standards. You can tailor a course selection to suit your particular needs and schedule. Here are a couple of questions that you might have about the course.
Is this an accredited Program?
Yes. The Professional Development Program and the business courses are accredited by the Accrediting Council for Continuing Education and Training (ACCET), see www.accet.org.
Can I get a I-20 for a Student Visa for this program?
Yes. This program is approved by the US Department of Homeland Security, so we can issue the Form I-20 for the Student Visa.
Can I get college credits?
Yes.  By taking and passing the College Level Examination Program (CLEP) examinations at the end of each course, you'll be earning college credits at an affordable cost. There are about 2,900 colleges in the US (and many more around the world) that accept your CLEP results toward college credits.
What are the entry requirements?
To participate in these CLEP accredited course you will require the following:
Minimum age of 18 years
High school completion
English proficiency of level 6 or higher
Must enroll for at least 1 full course
What courses are on offer?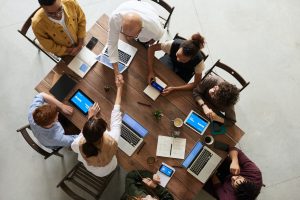 Marketing  – learn about marketing strategies, tools and concepts such as buyer behavior, the five stages of the decision-making process, STP and the 4 Ps.
Management  – understand key principles, techniques and management processes and the full rationale of processes, methods and data analysis for decision making.
Microeconomics  – learn how to allocate resources efficiently in free market economics, identify different market structures, maximize profits and evaluate distribution of income.
Macroeconomics  – understand concepts such as gross domestic product, inflation, inflationary gap and the interrelations among sectors of the economy.
Information System – find out about fundamental terminology and basic concepts of information systems, including business software practical applications.
Business Law  – improve your understanding of American Law, the Legal System and the functions of the main types of contract.
What can I expect in a module lesson?
Here's a sample class that you can take a look at.
What is the class schedule like?
Each course is about 6 weeks long. You'll have approximately 18 classes spread over a 4 days week.
Why else should I consider this Business course?
Despite having to have a level 6 proficiency to enroll, these courses are still a great opportunity for you as an English second language learner to improve your fluency and expand your business vocabulary. So, in short, you'll learn business and improve your english at the same time!
What's more these course are available at our location in stunning city of San Francisco! You'll get the chance to enjoy the sites of one of America's most beautiful cities. Plus the TALK San Francisco School, is well equipped with six spacious classrooms with interactive technology.
One aspect of professional development that is often overlooked is networking. By enrolling at TALK you'll be meeting and learning with an array of people from all over the world – a great base from which to build a professional network.
So contact us to enroll or find out more about these courses!