USB flash drive

When studying in college, it is important to have all your assignments and documents backed up and available to you at all times, especially when you have to study in different locations. A USB flash drive is a great device for students, as it provides them with the option of storing a lot of their school work, for use at a later date. Here is some information about USB flash drives and how they can benefit TALK international college students.
What is a USB Flash Drive?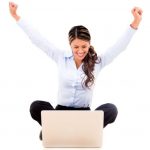 A USB flash drive is a small and compact storage device that can be used in any device that accommodates it with a USB port. These types of flash drives are available in multiple different size options and can hold photos, music, documents, and so much more , that can then be easily downloaded to other devices such as laptops, etc.
Advantages of a USB Flash Drive
Transportable – Because of its tiny, compact size, a USB flash drive is perfect to carry with you and takes up no room at all. For classes, where you may have to download specific items, you can put it in a wallet, pencil case, computer case, or pocket with ease.
Information in One Place – Because these devices are designed to store digital information, they offer students with the opportunity to have all their important school work stored as  backup files that are immediately and easily accessible.
Transfer Speeds – Because they are a digital device, the latest versions of the USB flash drive provide faster transfer speeds when downloading or uploading data. It is great if you are in a hurry and have to have your stored documents in a hurry.
Compatibility – Due to its versatile nature, a USB flash drive is able to be used with most devices that feature a USB drive. This is ideal for transferring work between different devices including computers, iPad, and more!