Commune with nature

For TALK international students living and studying abroad in the USA, there are times when it is important to get out and about and away from your studies and, most especially to take the time to commune with nature. Stepping away from city life and exploring nature is a perfect way of helping you to relax, unwind, and really enjoy all the things about your study abroad trip, while giving you the opportunity to have a spiritual connection with the natural world around you. Here are some of the places you can visit on your trip when you want to get out of your comfort zone and commune with nature.
Grand Canyon
The Grand Canyon is a fascinating and stunningly beautiful place to visit, as any TALK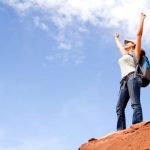 International student who has been there will testify. The Grand Canyon is set amongst inspiring and powerful landscape, which overwhelms your senses with its immense scale. The Grand Canyon is made up of amazing rock formations created by millions of years of erosion, and vivid rock colors. The Canyon is  227miles long, 18miles wide, and a1 mile deep. Because of its grand scale and magnificent land features it is once in a lifetime experience and an un-missable opportunity to see one of nature's true wonders.
Yellowstone
Yellowstone is one of the largest national parks in the USA, and is home to Old Faithful and other major geysers which are preserved here. This park was established in 1872, and is known as the USA's first national park. Yellowstone is home to grizzly bears, mountain lion, herds of bison, herds of elk, wolves, and more, making it an entire natural ecosystem that demands a visit if possible by TALK students.
Mammoth Cave
Established in 1941, Mammoth Cave National Park is a breathtaking and beautiful cave that is also one of the longest cave systems in the world. This cave systems runs a length of about 560km, and features a maze of  passageways which provide a habitat for a variety of fauna and flora, including many endangered species. A tour for this park includes cave tours, canoeing on the green river, surface hiking, horseback riding, picnicking, cycling, camping and so much more. This is a great place to experience the wonderful outdoors.