Play or watch sports

All across the world, sport is a unifying social and entertaining pastime or event. For TALK international students, playing or watching sports is a fun way to get together with friends and the local people of your host country, and to experience and enjoy the sporting traditions and games of the host country. Here are some tips if you want either to play some of these sports yourself or to be a spectator of them when they are played at a competitive level by the professionals.
Types of Sports You Can Play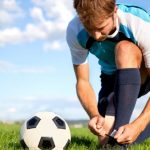 Soccer – Soccer is a very social game, and playing it will get you in the spirit of American soccer and socializing. Soccer offers something for everyone – even tiny tots play it here while Moms and Dads look on – and you should easily be able to find a local field or stadium where you can play or watch the game.
Basketball – Basketball is a much-loved sport in the U.S.A and one that you will have all sorts of opportunities to play with other students or even members of the community in which you live or study. Many communities boast basketball teams and clubs, which you can join, get healthy and meet and interact with the local people with whom you share something in common.
 Baseball – Baseball is one of the great national sports in the USA, and one of the most popular. There are two levels of baseball:  minor league baseball and major league baseball. Baseball is a very participatory sport, and worth getting involved with just for fun, and also to help you gain insight into the culture around this most popular of sports in the USA.
Sport you can Watch
Because sport features so powerfully in American culture, there are many great options on TV or at live games that offer you the opportunity to learn and experience the culture that is USA sports. Here are the main sporting activities that you can see throughout the year.
Pro Wrestling
Baseball
Golf
Tennis
Motorsports
Hockey
Football
Soccer
Basketball