Have an open mind

Learning a new skill is an exciting time for any TALK International student, especially when it comes to studying abroad. There are many different things you will encounter on your travels to your host country that you will need to take in your stride. Here are some study abroad tips on how to keep an open mind and why it is important when you are studying abroad.
How To Keep An Open Mind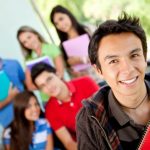 Don't Have High Expectations: When studying abroad you may feel things should run or be a certain way when you arrive. In truth, it doesn't always work this way. By having lower expectations of your impending situation, you are able to easily keep your mind open to changes that may occur which won't cause upset in your life.
Know That Not Everything Will Be The Same: Thinking that the lifestyle or culture in your host country will be the same as your home country can lead to complications. Always remember that not everything will be the same as what it is in your home country. By remembering this you won't be so out of place when you arrive in your host country.
Don't Judge People By Stereotyping: Just because someone has a tattoo or has their head shaved, doesn't mean that they are bad people. When in your host country, don't automatically judge people by what they look like, their skin color, the way they talk, or the way they live. Everyone has a story to their life and by taking people as they come you will be able to learn more about them with an open mind.
Importance Of An Open Mind
Acceptance: When you have an open mind you are more likely to accept people and problems for what they are and who they are. Not only that but you will be able to overcome obstacles and make new friends no matter their race or problems.
Ready For Anything: By having an open mind you will be ready for anything that comes you way. Nothing will faze you and you will be able to take on any hardships without any expectations.